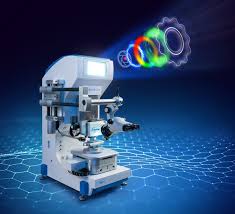 As quality expectations grow, and components continue to get smaller, new product development researchers must be equipped with the most advanced test technology. Prospector allows operators to gain unique failure mode insights by using just one dedicated machine. This is made possible by the introduction of a range of new applications, including hardness and scratch testing. DAGE Prospector is built on the strong heritage of accurate testing we developed for the Bondtesting industry. It is even capable of using the same test modules from other DAGE Bondtesters. For our customers with multiple Bondtesters in their production line, Prospector is the perfect partner for their pre-production R&D colleagues and is a cost-effective method of improving the efficiency of their 'new product introduction' testing.
Prospector uses a new generation of DAGE Paragon™ Materials analytical software to control every aspect of the test allowing operators to perform a wide range of test types with minimal training.
The Mexico Technology Awards acknowledge the latest innovations available in Mexico produced by OEM manufacturing equipment and materials suppliers during the last 12 months.