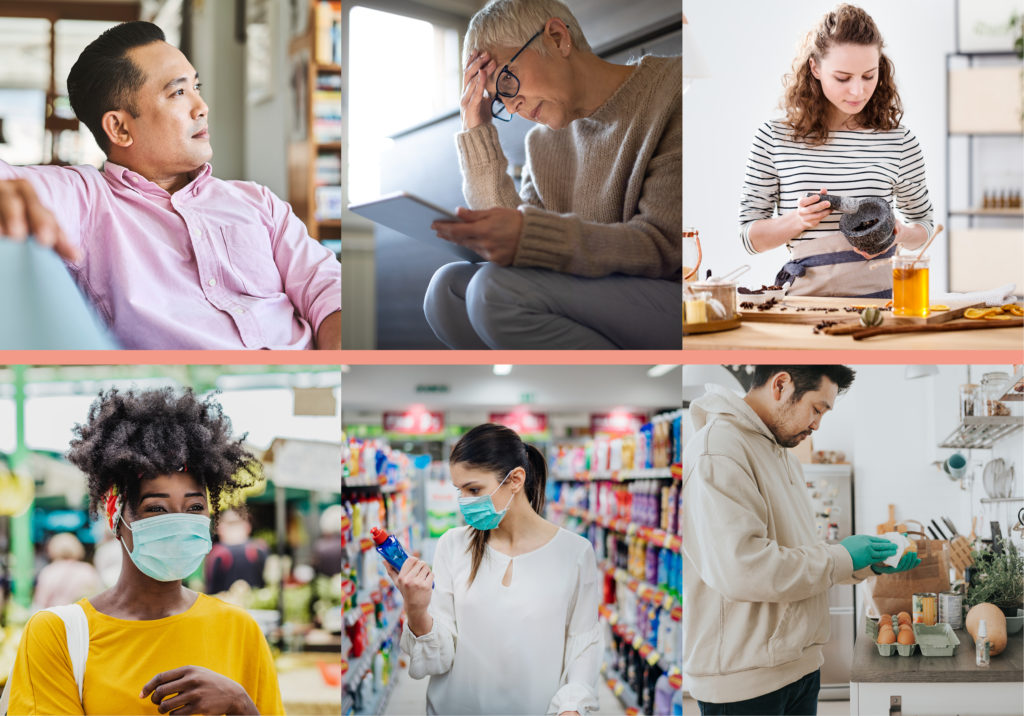 Beauty & Personal Care  
The Unphased are a portion of consumers who have not significantly changed their routines. For this profile, it is 'business as usual' apart from increased hand washing and sanitizing. They are not actively seeking additional solutions in the beauty space. However, they are attentive to solutions that reinforce product basics, efficiency, price, texture and aesthetics.
The Survivors are a portion of consumers who have started to turn towards DIY solutions during the crisis.  The reason for this is both constraint (i.e. social distancing, home restrictions) but also economic reasons, as this portion is more likely to have a lower disposable income. Their defining attitudes focus on increasing hand washing and sanitizing while also getting many of their beauty care needs done at home by themselves (coloring, manicure, haircut etc.). This segment, in general, looks for solutions that involve personalization, DIY and refillable products with a focus on price over other parameters such as sustainability for example.
The Anxious are a portion of consumers who have not changed their routine too much, but they are looking towards the market for reassurance in relation with safe and protective beauty and personal care solutions. Their defining attitudes are increased concerns for health, safety and anti-bacterial solutions. This segment will look for products that integrate tamper-proof and anti-microbial solutions. 
The Reinventors are a portion of (younger) consumers who see the COVID-19 pandemic as a time for change in their beauty routine. This is both due to constraints (such as wearing a face mask), but also simply because it is a time to reevaluate their consumption and their emerging needs. Their defining attitude focuses on adopting products that will provide solutions to new pain points like side effects of mask use and touchless solutions. This significantly large segment is more interested in disruptive solutions that answers to the new normal and offers out of the box ideas for category norms, gestures and application.  
Home Care  
Just as in the beauty and personal care market, the Unphased segment does not see the pandemic fundamentally changing their home cleaning routine. They are not on the lookout for new solutions, as they do not perceive that their routines have been disrupted. This consumer profile includes a higher proportion of men who are often less demanding and invested in the home care space. They maintain an interest in basic product benefits: efficiency, price and ease of use and favor products that prove efficient against bacteria and germs, are suitable for everyday objects and that can be used with minimal direct contact (sprays). 
The COVID Aware segment are aware of the danger of the pandemic and despite feeling that it has not fundamentally changed their daily cleaning routine, are nonetheless on the lookout for more effective products to use against germs and viruses. For this segment, minor tweaks and product changes to ensure efficient cleanliness will suffice. Though their routines may not have changed significantly, they plan to clean and sanitize more often and focus on products that are not overly natural to ensure efficiency. Protective and bacteria-safe packaging featuring tamper-proof containers, airtight packs and easy and secure locking systems will interest this segment.
The Changed are a segment of consumers who have undergone the most radical shift in home care and their home cleaning routines. The fear and anxiety around the COVID-19 virus is making them rethink what they do in terms of cleaning and sanitizing the home. They are actively on the lookout for new, innovative and even 'breakthrough' products. In need of reassurance, this segment wants disruptive options that reflect their reaction to the health crisis for them and their families.  
As the pandemic continues to evolve, we are continuously tracking the effects on consumers and their attitudes to beauty, personal care and home care to see what matters most now and how this will evolve in the long term. To stay up-to-date, watch this space for our next topic featuring the pandemic's impact on specific product categories, usages and key purchasing drivers.