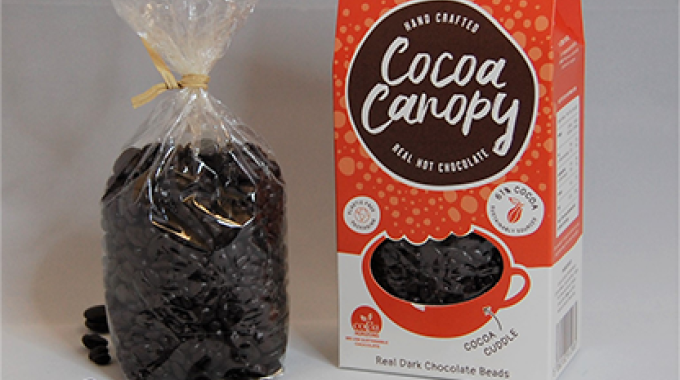 According to Futamura, consistent growth has seen the company move from hand-packing its products into film bags and selling at food and gift fairs, to a new film and automated bagging line that continuously packs the product, ready to stock supermarket shelves.
As early-adopters of NatureFlex, a cellulose film made by the manufacturer Futamura, Cocoa Canopy's forward-thinking is getting them noticed within their competitive market – when the company discussed future listings with Waitrose, the leading supermarket was greatly encouraged by Cocoa Canopy's exploratory approach to alternatives to conventional plastic packaging routes, said Futamura.
NatureFlex film handles differently to conventional plastics, so in order to be certain its bagging machinery was compatible with the new substrate, the chocolate specialist worked closely with its suppliers. Ably assisted by engineers from both Futamura and the bagging machinery company, BW Flexibles, a solution was found that enabled Cocoa Canopy to manufacture at speed and meet demand from its growing customer base.
Based in Wigton, Cumbria, Futamura supplies renewable and compostable film for the food industry. Futamura's sustainability credentials are in perfect synergy with Cocoa Canopy's – the brand's cocoa beans are from sustainable farming communities, and it supports the Rainforest Alliance program.
Cocoa Canopy is the only UK drinking chocolate company to offer crafted chocolate beads designed to be melted into milk or water for an in-home experience of luxurious hot chocolate that can be enjoyed anywhere, hot or iced.
The company recently re-staged to encompass its values across all platforms: product, packaging and marketing, all designed to reflect the ethos of the company and provenance of the product. The partnership with Futamura will help Cocoa Canopy achieve their expansion goals – it needed to explore new, automated packaging options as although the UK remains its key market, contacts made in the US show buyers there are increasingly focused on renewables and sustainable packaging.
Emma Wilson, business development manager at Cocoa Canopy, said: 'Sustainability is about the journey and not the destination. Cocoa Canopy has always been about the provenance but, until we refreshed our brand, it wasn't talked about and wasn't mentioned on the packaging. Being kind to the planet is not just about business, I want to work for a pioneering company that my future grandchildren can be proud of.'
Nav Notay, managing director at Cocoa Company, added: 'Futamura has been very supportive on our journey. Particularly when finding a solution for the bagging machinery, they have been with us every step of the way, working with the engineers to get us exactly where we need to be.'
Futamura sales and marketing manager, Andy Sweetman, concluded: 'We are delighted that our NatureFlex films are part of Cocoa Canopy's packaging solution, complementing the company's ethical values. Not only are the films derived from readily renewable cellulose, sourced from responsibly managed plantations, but they are also fully certified for home and industrial composting after their use.'