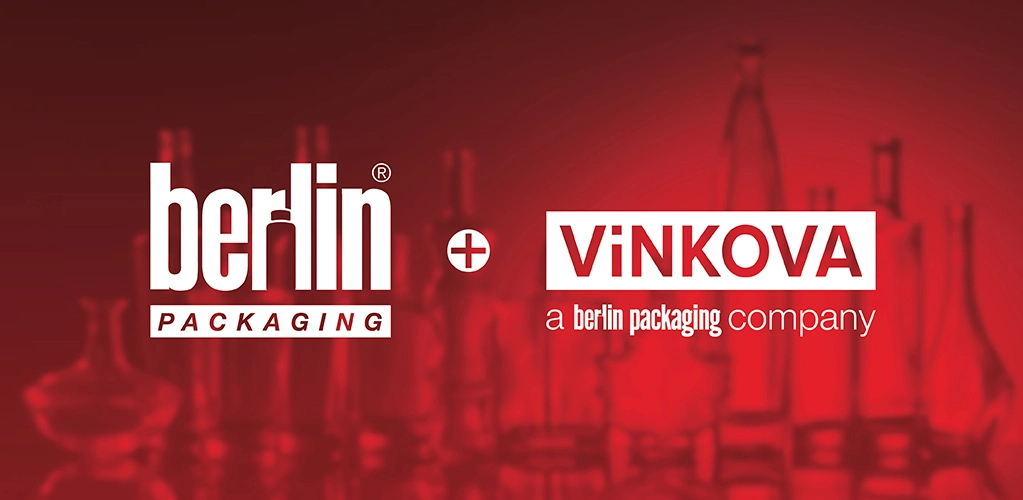 Press Packagingconnections
With more than 50 years of experience, Vinkova offers a huge range of tailored solutions and products to a large customer base on the Dutch market, boasting solid industry know-how and strong relations with some of Europe's most important glass producers.
The strategic joining of Vinkova is, for Berlin Packaging, the completion of the range offered on the Dutch market, supplementing the innovative plastic and metal solutions and innovative closures already marketed on the territory since 2019.
Berlin Packaging is a global player supplying packaging solutions and services to customers of all types, across the globe, in all industrial sectors. The company is based in North America, where it has been operating since 1898, and boasts a global footprint that is expanding rapidly, with more than 130 offices and warehouses worldwide.
Vinkova is the eighth acquisition to be made in Europe since 2016. Customers and suppliers of both companies will benefit significantly from this acquisition and the combined operations of Europe's most important packaging distributor.
Starting today, Vinkova's customers can enjoy the exclusive design and innovation services guaranteed by Bruni Glass Innovation Center in Italy and by the One Eleven Studio in the United States of America.
"We are extremely enthusiastic to become a part of the Berlin Packaging family and are certain that this new partnership will benefit our customers, suppliers and employees enormously", André Rombout, General Manager of Vinkova, commented. "We are a solid company and will become even more so".
"This is great news for our company, and for all our business partners too, adds Ruben van der Zouw, Vinkova's commercial director. They will all benefit from the strong capabilities the Berlin Packaging Group has to offer. The Vinkova team is ready to start this new chapter in our history."
"The acquisition of a solid glass packaging supplier in the food & beverage industry allows us to further extend the presence of Berlin Packaging on the European glass packaging market, completing the range of glass-plastic-closure products", Paolo Recrosio underlined, CEO of Berlin Packaging Europe. "It also offers us huge business opportunities, thereby confirming the validity of our strategy and the consistency of our project".
"In addition to consolidating our positioning in Northern Europe, this acquisition allows us to support customers of all sizes and from all market segments, strengthening our commercial relations and the range of extremely high-quality services", declared Bill Hayes, CEO and President of Berlin Packaging.
Fully in line with the Berlin Packaging acquisitions strategy, the workforce and structure of Vinkova will not change in any way: all employees will remain with the company, as confirmation of the growth and development objectives in Europe.
Berlin Packaging
Berlin Packaging is the world's only Hybrid Packaging Supplier® specialised in the supply of glass, plastic and metal containers and closures. Each year, the company supplies thousands of articles to customers of all sectors, together with packaging design services, financing, consultancy, storage and logistics.
More information is available from BerlinPackaging.com
Press Office
Omnicom PR Group Milano
Barbara Papini, Barbara.Papini@omnicomprgroup.com  +39 335 6113555
Ilaria Sala, Ilaria.Sala@omnicomprgroup.com   +39 335 8112968
Elena Franzetti, Elena.Franzetti@BruniGlass.com +39 02 48436611 +39 3401204145
Julie Saltzman, Julie.Saltzman@BerlinPackaging.com +1 312 869 7554 for North America.