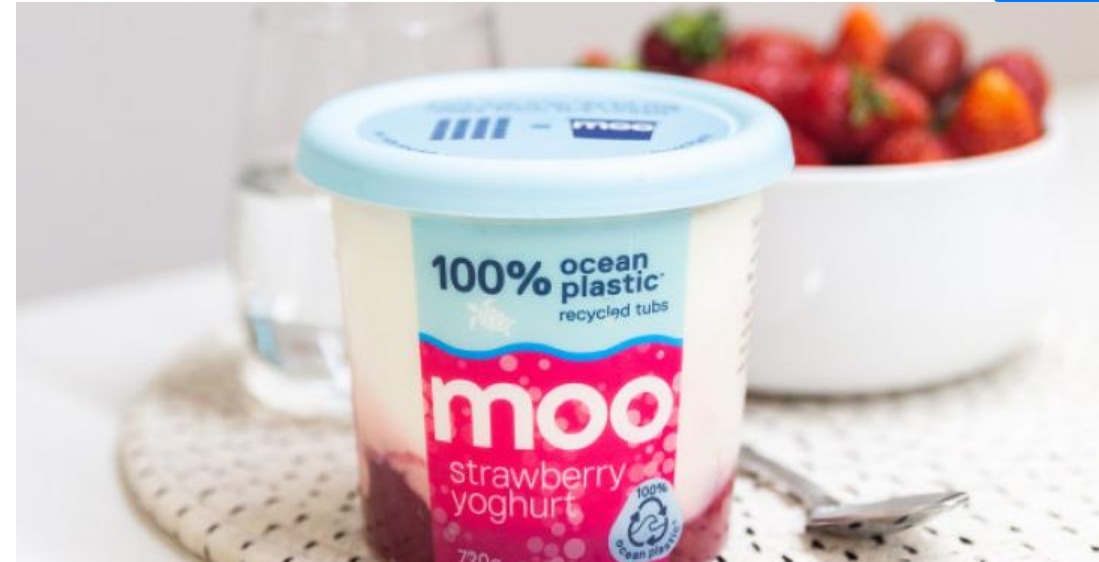 MOO Premium Foods co-founder Mick Sanders says it was a barrage of questions he received from nine-year-olds, at a primary school talk, that sparked the idea for the yoghurt tubs created with 100 per cent reclaimed Ocean Bound Plastic.
Ocean Bound Plastic is the term to describe all the plastic waste that has ended up in the ocean, as well as plastic rubbish found within 50km of a coastline that is not managed and at risk of ending up as marine debris.
According to Sanders, who founded MOO with his wife, Sally Sanders, 17 years ago, about 100 tonnes of plastic – the equivalent to 1.1 million plastic bottles – will be removed from beaches, oceans and waterways this year alone, thanks to MOO.
Sanders said he went to the primary school "prepared for the kids to ask me questions about how yoghurt was made".
"Instead, they fired questions at me about what MOO was doing to be sustainable and reduce its impact on the environment. I was really surprised by their interest and knowledge about environmental issues, and I knew we had to do more." 
The company founders have spent the past two years working closely with St Mary's, South Australia manufacturer TechnoPlas to stay at the forefront of packaging innovation.
A year ago, they discovered a Malaysian company converting plastic collected from the ocean, beaches and waterways into food-grade plastic resin.
"This was an absolute game-changer. We finally had the opportunity to help clean up plastic pollution and make a real difference," said Sanders.
"At the very least, we knew we'd be able to make a yoghurt tub from a mix of new and reclaimed plastic, but we really wanted to push the boundaries. To finally see the resin and realise it could successfully be made into 100 per cent reclaimed Ocean Bound Plastic tubs was fantastic."
SUPPORT FROM PARTNERS
The change in packaging attracted the attention of Woolworths, which is partnering with MOO as part of its commitment to 'growing greener'. The supermarket retailer will stock MOO yoghurts in 100 per cent reclaimed Ocean Bound Plastic tubs nationally to give more shoppers the chance to help clean up the seas.
Creating MOO's 100 per cent reclaimed Ocean Bound Plastic tubs starts in Malaysia, where recycling company HHI partners with locals to collect washed-up plastic from more than 200 beaches and rivers, in line with strict United Nations' ocean plastic collection protocols.
The work provides employment in underprivileged coastal communities, as well as helping to clear polluted waterways. The collected plastic is then sorted, crushed, washed and 'melted' down into resin, which then goes through a decontamination process that meets food-grade US FDA 21 CFR 177.1520 test compliance.
HHI is also certified by Zero Plastic Oceans to confirm that the recovered plastics meet the Ocean Bound Plastic standards.
MOO imports the food-grade plastic resin (US FDA 21 CFR 177.1520 test compliant) and local manufacturer TechnoPlas moulds it into the yoghurt tubs and lids.
It is the first time in Australia that food-grade packaging has been made from 100 per cent reclaimed Ocean Bound Plastic. The tubs are 100 per cent recycled and 100 per cent recyclable – the tub, lid and foil just need rinsing before being placed in kerbside recycling bins for the process to start over again.