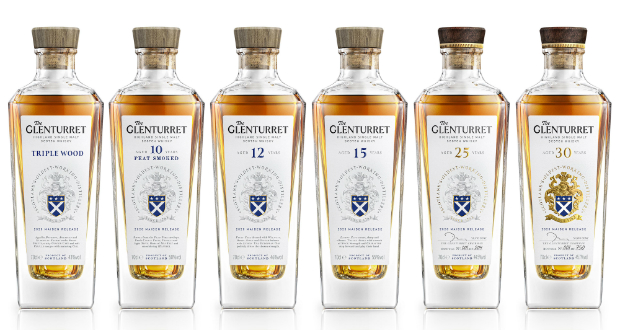 The recent acquisition of the distillery by the Lalique Group, represents the Swiss luxury house's entry into the spirits world.
Celebrating a 250-year-old history, The Glenturret is a rare jewel that needed to be understood from its heart in order to write a new chapter with relevance and respect, staging the brand for future growth under the new owners. Therefore, the project started with an immersion visit at the distillery in Crieff, where the Appartement 103 team spent time understanding the brand history, core values and expertise in producing some of the finest whiskies.
The new Glenturret presentation honours its roots, its prowess in traditional distilling and passion to preserve and enrich whisky making for future generations. A balance between tradition and modernity. The redesign spanned across 6 SKUs, with the core range consisting of Triple Wood, 10 Years Old Peat Smoked, 12 Years Old and 15 Years Old, while the extremely scarce range comprised of two variants, 25 years old and 30 years old.
All expressions are presented in a new distinctive bottle signed by Lalique, which breaks conventions within the world of single malts; the rectangular profile, broad shoulder, crafted detail and reassuring weight epitomise The Glenturret's elegance and stature, injecting a daring touch of modernity while the visual graphic identity balances the overall presentation by conveying its heritage.
The Glenturret crest, hand drawn by the team, proudly features on the new packaging, through a subtle play of embossing, hot foils and printing details, showing premiumisation across the range. It is inspired by the original Murray family coat of arms, who founded The Glenturret Distillery and has played a key role in the journey of the distillery over the past 250 years. The Murray family crest was represented by a striking azure colour and included three silver stars, the Scottish flag, a knight's breast plate and crested helmet entwined with an olive branch.
All details where carefully looked at. From black hot foil, natural paper texture, embossing and finishing to convey the premium look that the brand deserves. Adding a touch of refinement to the ultra-premium range, we designed a bespoke cap, made from natural oak and metal engraved pieces.
The secondary packaging also reflects the institutional character of the brand through a clean but striking presentation enhanced by printing details and the vibrant azure tones. On the other hand, the 25 YO and 30 YO are carefully protected into a wooden box featuring metal gold coins.
Matthew Turner, global  brand manager, The Glenturret, said: "This was a significant project; new full brand packaging, from glass through to shipping case and every component in between across six expressions. The brief was tough, provide packaging design projecting tradition and luxury positioning, be different, relevant and cut through in a demanding category. Appartement 103 delivered above and beyond the brief possessing a rare combination of creativity, project management and delivery. The team is very professional and always pushing hard to get the best possible design outcome. We are delighted with the new packaging and I can highly recommend Appartement 103."