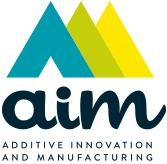 Over the past five years, AIM has used its three GE Additive Arcam EBM Q20plus and Q10plus systems to develop cutting-edge 3D printed perforated molds. These new molds address the unique challenges of turning wet, fibrous pulp into products, such as food containers and packaging material, with improved strength, thinner walls and the ability to contain liquids and fats.
The collaboration between AIM and GE has allowed AIM to develop a completely new tooling solution as well as an optimized EBM build strategy to produce extremely thin, highly stackable molds with minimal or no support structures. This process significantly reduces production time. In operation the thin titanium forming skins rest on a 3D printed nylon backing, also designed and produced by AIM.
This work is essential as consumers and governments become increasingly sensitive to food packaging waste. The EU's Directive on Single-Use plastics, for example, sets ambitious targets on decreasing the use of disposable plastic products in Europe. By mid-2021, European Member States will need to have banned single use plastic products for which there are readily available alternatives. This includes cutlery, plates and expanded polystyrene food containers, beverage containers and cups. By 2026 Member States also have an obligation to show an ambitious and sustained reduction in the consumption of plastic food containers and cups and lids for beverages.
AIM Sweden's new shaping tools, additively manufactured using GE Additive's EBM technology, address these kinds of issues by making food packaging production less labour- and resource-intensive. AIM's process makes packaging cheaper, more efficient and longer lasting. AIM's technical director, Axel Bergström, explained that "this all started out with a few customers asking us to make forming tools for molded fiber. The early molds were fully functional, but we were also challenged to improve the functionality by increasing resolution and make even smaller perforation holes more evenly distributed."
"To increase the resolution of perforation across a complex 3D surface was a geometric challenge that pushed the limits of current additive printing technology and knowhow. The GE Additive team in Gothenburg provided an advanced training course which was instrumental for the process development work we later carried out. Now, we can utilize our EBM machines more efficiently and build high resolution titanium skins more or less free of support," said Bergström.