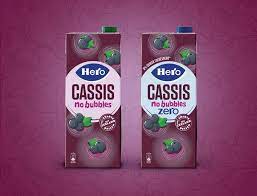 Grania Jain
The launch is a key focus of Hero's ongoing sustainability strategy, as the company strives to build a better environment to meet the needs of tomorrow. Consumers can now purchase Cassis juices in one of the most sustainable packaging solutions – SIG carton packs with SIG Terra Forest-based polymers packaging material, which has a carbon footprint up to 51% lower than a standard SIG pack*. Fully recyclable, consumers can easily fold the pack flat and dispose with the cap in the appropriate PMD bin or bag.
Kim Luu, Brand Manager Drinks at Hero Benelux: "Forging successful partnerships with suppliers such as SIG is integral to achieving our aim to become a Climate Positive company, as we work together to reduce carbon emissions and protect nature. Launching our first Cassis juices in SIG carton packs, with SIG Terra Forest-based polymers packaging material, also means our consumers can now continue to enjoy the great taste and quality of our Cassis juices but in a more sustainable packaging option."
The paperboard used for SIG Terra Forest-based polymers is sourced from 100% FSC™-certified forests and other controlled sources; the forest-based renewable polymers used for the closure and the lamination of the paperboard are certified according to the certification scheme ISCC PLUS (International Sustainability & Carbon Certification). The ultra-thin layer of aluminum is ASI-certified (Aluminum Stewardship Initiative) and protects against light and oxygen. All three key raw materials come from certified responsible sources via mass-balance systems.
Sonia Voicu, Marketing Manager Benelux & France at SIG: "With such a strong heritage in the Benelux soft drinks market, it's exciting to see the iconic Hero Cassis brand taking an important step forward by choosing our sustainable packaging. We will continue to work together to innovative the market and adapt to the ever-changing needs of both industry and consumer."
Cassis juices maintain the same original and unique taste, enjoyed by consumers since 1938 but non-carbonated. The blackcurrants that are used for fermentation continue to be sourced from the fertile clay soil of the Dutch province Zeeland. The local blackcurrants and unique brewing process ensures the unique and authentic flavour that sets Hero Cassis apart.*