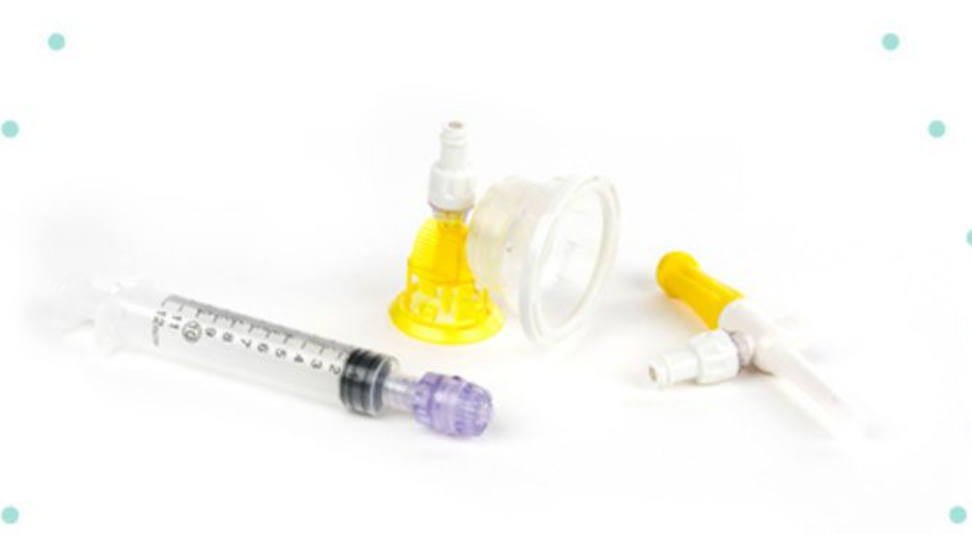 According to the National Institute for Occupational Safety and Health (NIOSH), a closed-system transfer device is defined for use in compounding and administering sterile doses of chemotherapy and other hazardous drugs, as a drug transfer device that mechanically prohibits the transfer of environmental contaminants into the system and the escape of hazardous drugs or vapor concentrations outside the system. Although absolute containment is ideal, it may not be possible and there is still a risk of exposure for staff regularly handling hazardous drugs due to user technique or unpredictable spills.
Closed-system transfer devices (CSTDs) are adapters that connect two medication containers—vials, syringes, or IV bags—to allow a hazardous drug (HD) to be transferred between the vessels without permitting any of the drugs to escape. They are used to minimize personnel environmental exposure to HDs from the time the drugs are compounded in the pharmacy to the time they are administered to the patient by the clinician.
Yukon Medical brings the transfer set for complete protection, compounding, transporting & delivering Hazardous Drugs (HD).
The complete range of the transfer set comes with the name Arisure® .
Arisure has received ONB clearance from the US FDA for its use as a Closed System Transfer Device (CSTD).
Mechanically and microbiologically closed 
The Arisure CSTD is proven to prevent contaminants from escaping or entering the system.

Needle-free and easy to use 
The Arisure CSTD is needle-free with intuitive, easy-to-use Luer lock connections.

Minimal workflow disruption 
Get closed and compliant with minimal workflow disruption.
Better usage which makes you completely focus on what is most important: The Patient.
The Arisure CSTD keeps you and your team safe so you can quickly and efficiently compound the right drug and the right dose with the least amount of disruption to your workflow.
Complete Closed System Transfer Device consist of :
1. Closed Vial Adapter 
The Close Vial Adapter (CVA) is completely closed, helping to reduce the risk of exposure to hazardous drugs while providing a safe and simple solution for drug reconstitution and transfer.
Mechanically closed to prevent the escape of harmful vapor and aerosols into the environment 
Dry disconnect with Arisure CML results in reduced exposure to harmful drug residue 
Intuitive, luer lock connection with Arisure CML means safe and easy transfer of compounds
Microbiologically closed maintaining drug vial sterility for up to 7 days 
Low attachment force and non-coring spike help eliminate problems during vial insertion 
13mm, 20mm, and 28mm variations available to fit all vial size.
2. Closed Male Luer
The Closed Male Luer (CML) is easy to use and completely needle-free. It forms a dry disconnect with any Arisure needle-free valve. It remains closed when not accessed, preventing accidental spills or discharge of hazardous drugs.
Dry disconnect with Arisure needle-free valve results in reduced exposure to harmful drug residue 
Easy, luer lock connection with Arisure needle-free valve means safe and simple transfer of compounds 
Mechanically closed when not accessed, preventing accidental leaks or spills
Microbiologically closed, reducing the risk of contamination 
Maintains seal integrity, keeping all connections safe even when accessed multiple times
No special adapters means less time searching for parts and more time caring for your patient
3. Dry Spike
The  Dry Spike gives you an easy, safe way to transfer fluid into a bag or container while maintaining a closed system.01
Simple and easy to attach securely to a bag, bottle, or other semi-rigid container
Dry disconnect when used with Arisure CML results in reduced exposure to harmful drug residue 
Double seal design allows for secure, safe connection with a variety of spikes 
High flow rate means an easy transfer of drug or dose into the container.
To know more, please reach out to us on - info@packagingconnections.com