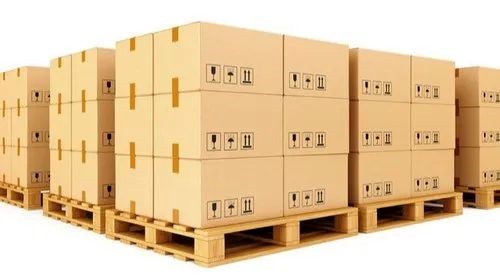 Pallets are strategically thin yet sturdy and strong wooden structures that provide a base for loading goods onto transport vehicles as well as maintaining the stack integrity in transit.
During World War II (1939-1945), armies required a system for quickly transporting large quantities of weapons and supplies to troops on the front lines which led to the innovation of modern-day pallets.
Initially introduced in the supply chain industry to replace heavy barrels and crates, which were inefficient and labor intensive to move around, pallets also secure the goods in place and protect them from in-transit damage.
Today, palletization, the act of placing goods on a pallet, is further being optimized to reduce carbon emissions per unit volume good transported a unit distance. Other benefits of palletization include inventory control, improved safety for operators, and overall streamlining.  
In some case, the material and design of the pallets itself are being modified to make the processes of warehousing and transportation more eco-friendly.
Considering palletization is a key process of the supply chain and logistics ecosystem, a sizeable number of resources have been invested by big-ticket companies to improve the concept as a whole.
A valuable realization in the industry was of understanding the importance of packaging design that is "fit-to-size" in encasing the product. When the product occupies most of the packaging dimensions, it not only encourages an eco-friendly practice but also commands more stability in the pallet arrangement.
Many alternatives to the traditional wooden and plastic pallets have now been introduced keeping sustainability in mind. New designs use post-consumer resin or are constructed using composite materials. One can also find eco-pallets made of agricultural waste on the market.
Protective wrapping materials have also been replaces with more environmentally friendly substitutes.
Some argue that pallets and palletization have become obsolete, especially in the retail industry and since the boom of ecommerce; goods are now stored in boxes since SKUs are lower and orders are smaller.