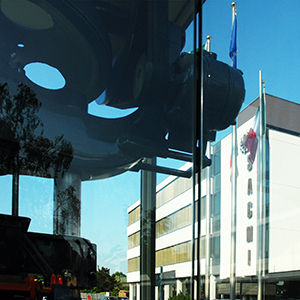 Group to take part in Nigeria Food+Bev Tec 2019 with its range of complete solutions for the Beverage Closures industry. Excellence is the defining SACMI hallmark in both technology and services, with customers able to count on personalised, flexible solutions that span from cap to labelled bottle
With branches located at each of the continents three corners, SACMI is investing in Africa with confidence and will, from 26 to 28 March 2019, be showcasing its solutions at Nigeria Food Bev Tec (Landmark Centre, Lagos). A key industry event for sub- Saharan Africa, this fair brings together the worlds major machine suppliers, keen to intercept new development prospects on a market that worth over 260 million euros and, in 2017 alone, grew by a huge 15%.
Capable of developing world-class technologies and plant engineering solutions – such as CCM continuous compression moulding for the manufacture of plastic caps – SACMI plays a key role on emerging markets as a sole provider capable of supporting bottlers andbconverters in the development of dedicated, personalised solutions. Moreover, it does so in close synergy with its Lab, certified by key international players.
Already a pivotal player in Africa thanks to its own branches and facilities dedicated to packaging-beverage development, SACMI has decided to take part in the Lagos fair for the second year running to show potential customers its far-reaching range, which extends downstream from cap and preform production to include complete stretch-blowing, filling and labelling solutions.
Customers can rely on the solidity of a sole partner of internationally acknowledged reliability. Thanks to advanced remote assistance services provided by the SACMI Customer Service Division, customers can - anytime, anywhere in the world - count on a specialised SACMI technician to ensure they always get the most from their production line investment.
This successful approach has, in recent years, resulted in the installation of over 50 lines, in Nigeria and surrounding countries, for the manufacture of plastic and metal caps, IPS solutions for the manufacture of PET preforms and complete bottling lines.
The development of personalised, flexible solutions makes SACMI unique. We are, in fact, the worlds only competitor capable of providing a response for every stage of the beverage line, from design of the cap-bottle system to manufacturing and use of packaging. Recent years have seen extraordinary market growth (the African soft drinks sector sees over 85% of new customers going for complete plants). This clearly confirms the far-sightedness of SACMI investment in Africa, a continent ever-more strategic to the integrated development prospects of our Beverage Closures business.
Upload Press Release file: