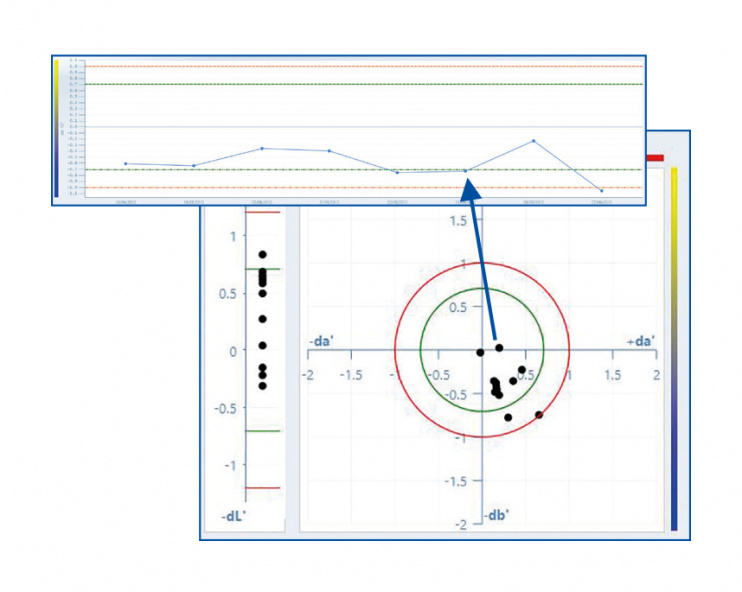 BYK-Gardner - worldwide partner of the automotive, paint and plastic industries for quality control of color, appearance and physical properties - is announcing the next generation of their data analysis software smart-chart.
In order to guarantee uniformity over time and be able to proactively take measures before color or appearance start to drift, process stability has to be controlled. Therefore, a representative number of readings have to be taken and large data sets need to be analyzed. The next generation of smart-chart software is built on a new state-of-the-art platform and offers advanced graphics and printout functionality as well as a streamlined user interface.
Dive into the new advanced graphical functionality of smart-chart
A new pan & zoom functionality allows to first enlarge the graph and then move it to the area of interest. For line graph, the zooming is even done simultaneously for all charted parameters allowing to always see the data for exactly the same day or individual.
Brand new is the display of red and green tolerance lines. They are based on your product specifications in standard management and can easily indicate a quality drift so that you are able to proactively take measures to avoid costly rejects.
The new drill-in function shows history trend of the last 20 measurements of the same model, color and painting line.
Communication to your point with dynamic print layout
Taste differs – not only in the case of food! Which data is needed on the printout depends on your requirements. Therefore, smart-chart 5 offers a dynamic print layout so that you can create your own template. The order of data table and graphs can be defined, line and page breaks can be inserted and you can even implement your company logo, a footer and a comment.
Data analysis streamlined with new reports
To make the software more user-friendly reports are combined without losing the functionality of previous software versions. As an example, to compare data of different check zones only a checkmark needs to be set in Trend Report without the need to move to another report.
smart-chart 5 – one software solution for all BYK-Gardner color & appearance products
You can't get any more efficient in organizing your QC system. Set-up of instruments, central data storage and data analysis is streamlined and the same for BYK-maci, cloud-runner, wave-scan, micro-gloss and the recently launched spectro2guide.
The software package smart-process including the new features mentioned above will be available 1st quarter of 2019. Software smart-lab to follow approx. 2 months later.