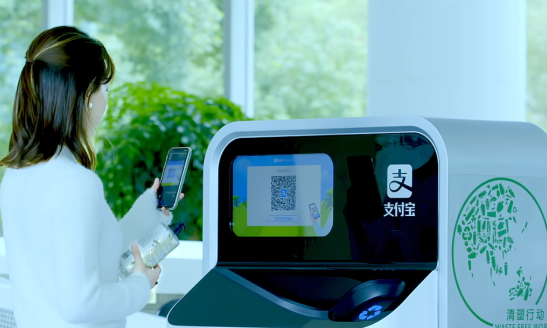 The initiative, Waste Free World, is the first of its type and could accelerate the process of returning high grade plastic back into a closed-loop recycling system.
There are currently 20 of the recycling machines installed in offices and community spaces in Shanghai and Hangzhou.
During the course of 2021, 500 of the deposit machines will be put into market, mainly in the Shanghai and Hangzhou area, collecting up to 500 tonnes of plastic.
The project will also contribute to changing consumer behaviour through the incentive of Unilever coupons and AliPay rewards.
The system works by:
Customers scan the QR code on the bottle they want to recycle before placing it into the machine.
The AI technology identifies the type of plastic and sorts it accordingly.
The bottle's recycled plastic granules will then be applied to the packaging of future Unilever products, before going back on shelf.
Rohit Jawa, executive vice president of North Asia, Unilever, said plastic has its place, but should not cause environmental pollution.
"By 2025, we will make an absolute reduction of 100,000 tons in plastic use and promote the use of recyclable plastic, so that we can halve the amount of virgin plastic we use in packaging and help collect and process more plastic packaging than we sell. We believe WASTE FREE WORLD jointly launched with Alibaba Group will become the 'green engine' of the circular economy for plastic packaging in China."