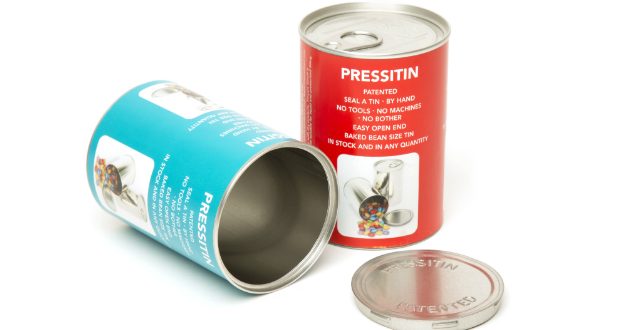 Ajit Pandey
Traditionally, cans are closed with a cumbersome seaming machine that spins the can to bend the closing end over the tin, forming the conventional tin can. This can now be done with bare hands when using Tinware's Pressitin, for which the company has secured the European patent.
Stuart McAllister, owner of Hot-Headz!, wanted a premium packaging option for their product – Who Dares Burns! Scorpion Strike chilli peanuts. "There's no doubt that the Pressitin™ presentation adds a noticeable increase in sales due to its premium look. Next to cellophane bags of "homemade" spicy peanuts, our tins look impressive."
"A great packaging idea which helped elevate my business from concept to supplying Retailers UK wide, Tinware Direct offered me the perfect packaging solution' says Ed Vickers, company director of Jollie Goods.
The Pressitin is described as being suitable for everything from gifts to boxer shorts. As with all of Tinware's products, Pressitin is coated in a food safe lacquer, also making it suitable for storing a range of dry food items.
Plastic over-caps are available as an optional extra.
Packaging Innovations London is co-located with Luxury Packaging London 2016, taking place at London's Olympia on 14-15 September.