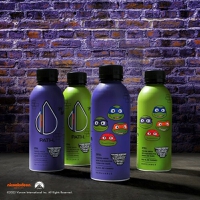 Grania Jain
Refillable and recyclable aluminum bottled water brand Path is launching limited-edition Teenage Mutant Ninja Turtles: Mutant Mayhem bottles in partnership with Paramount Consumer Products, in line with the film's release.
The 16.9 fl oz bottles are available exclusively at Target stores in the US and come in BPA-free aluminum bottles containing "ultra-purified" still water with added electrolytes and a 7.5 pH. 
"In response to rising consumer demand for sustainable solutions, we're proud to partner with like-minded brands to create innovative products that reflect cultural trends," says Path's co-founder and CEO, Shadi Bakour. 
"With Paramount Pictures and Nickelodeon Movies' Teenage Mutant Ninja Turtles: Mutant Mayhem joining forces with Path, we're witnessing an exciting convergence of pop culture and environmental responsibility."
The brand recently collaborated with Mattel to launch a limited-edition Barbie bottle. 
Path says it continues to make an impact to end single-use plastic through co-branded partnerships. Additionally, it aims to make environmental sustainability and hydration fun for parents and kids with limited-edition character bottle designs.
Designing for consumer engagement 
Packaging Insights previously spoke to Florian Combe, new product development and graphics manager at Crown Bevcan EMEA about aluminum's green credentials and how beverage cans capture consumer attention at the point of purchase.
"Beverage cans have a large, printable surface area that serves as a 360-degree billboard for brands on shelves, which is typically not feasible with other packaging formats," he said. 
Furthermore, in January we spoke to printing experts Bobst and Vista who predicted customization and differentiation through digital print packaging solutions to become essential tools for driving customer relations and building brand loyalty.
"In 2023, we expect the trends we have seen in previous years to be consolidated. We see our customers designing with bright, bold, highly saturated colors, using patterns and incorporating laminations and finishes," Javier Adán, general manager of packaging & labels at VistaPrint told us.
"Paired with an eye-catching design, the use of QR codes and connected packaging is another way to elevate the customer experience and create a memorable unboxing experience."
Path offers various customization options to consumers in addition to the limited-edition bottles developed in partnership with other brands.
"We're on a mission to make the future sustainable as the go-to bottled water that helps everyone break the addiction to single-use plastic bottled water. We're growing this revolution everyday, as global consumer demands skyrocket for sustainable and reusable choices in bottled water packaging," says the brand.