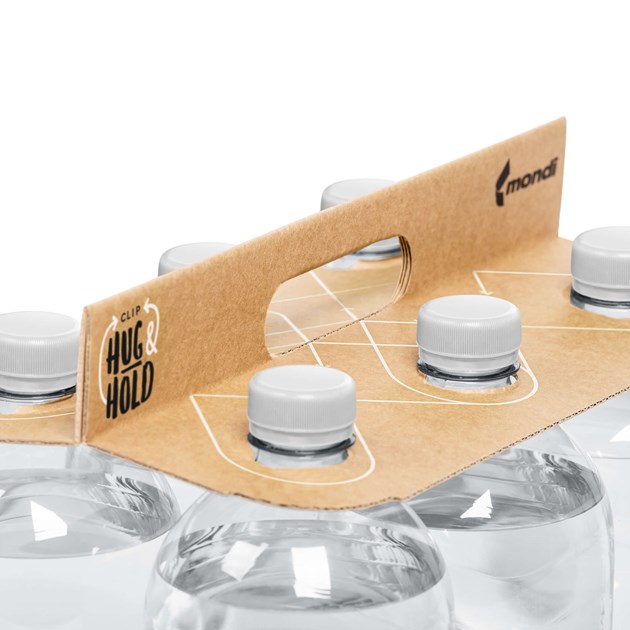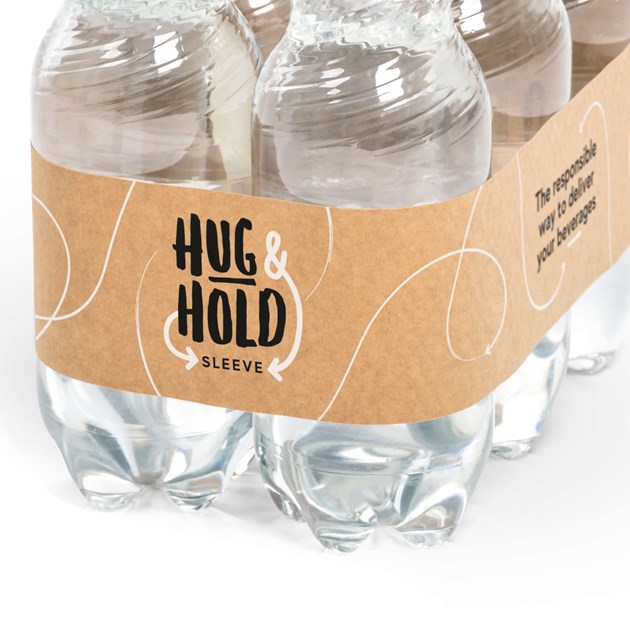 Mondi's fully paper based and resource efficient replacement of plastic shrink wrap for fully automated PET bottle packing lines in the beverage industry.
Hug & Hold is a plastic free alternative to shrink wrapping and consists of a paper sleeve wrapped around the bottles and a corrugated clip on top to secure the bottles and offer a comfortable handle for transportation.
Numerous benefits at your grasp
100% plastic free
From renewable and responsibly sourced material
Easy sourcing of two components ( out of one hand supply)
Easy separation of single bottles from the pack
Fully recyclable in standard paper streams
Printable top clip and paper sleeve
Stable stacking on the pallet and at POS
Validated for the automated packaging process
Hug: Paper sleeve
Advantage Spring Pack Plus kraft paper provides unique properties needed for this bundling application. This patented sleeve solution is offered exclusively by Mondi.
High tensile strength to resist any tear
High stiffness for excellent runability 
Hold - Corrugated clip
The corrugated clip placed on the bottle necks secure the bottles in place, while offering a comfortable handle for consumers to carry the bottles. 
Durable corrugated board
One piece design for automatic application onto the bottles
Convenient carrying handle options
Available with various paper types