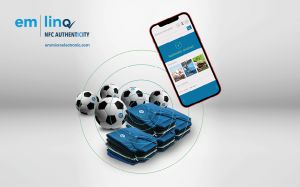 When NFC tag content is dynamic, the company explains, the tags provide protection against cloning. The growing demand for such solutions has faced a scalability challenge, it says. While NFC tags have been deployed for consumer engagement as an extension of a typical HF RFID use case, the authentication component adds cost and complexity. The em|linq combines cryptographic mechanisms typically used in smart-card products with RFID technology. It is built on open standards, allowing flexibility in the authentication service's implementation.
Key management and provisioning can be handled and controlled by the company that implements the solution, whether an inlay or label manufacturer, a systems integrator, a brand or a retailer. Programming the cryptographic keys into chips is segregated from programming the URL for the authentication service, thereby providing flexibility and security.
The em|linq's small form factor offers mechanical robustness, EM claims and its power efficiency allows for a small antenna form factor for communication. Its electrical characteristics are compatible with most antenna designs on the market.
With its authentication engine built on top of an RFID architecture, the tag is designed to offer scalability and authentication functionality. Its RF performance allows for small inlay constructions, facilitating integration. The em|linq is NFC Type-2-compliant. Its cryptographic hardware implementation provides Web authentication brand protection to consumers' smartphones using a dynamically generated HMAC-SHA1 code appended to the URL stored in the NDEF container.