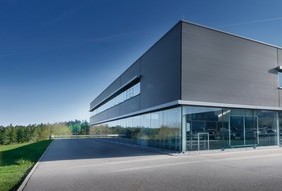 "The intensive cooperation between FRANK plastic and Röchling's Industrial and Medical divisions gave us positive impetus from the very beginning," said Dr. Christian Holzherr, CEO. This will not change under the new company name and further investments in medical and industrial technology are planned. This is also confirmed by Röchling's CEO, Prof. Dr. Hanns-Peter Knaebel, who has also been Chairman of the Supervisory Board of FRANK plastic AG since the takeover: "As with our other 90 locations of the Röchling Group worldwide, Röchling has a very high level of loyalty to the location"; one looks forward to further developing the Waldachtal location and investing in the future there.
The new name takes account of the fact that the company generates its majority of sales with customers in the medical technology sector. However, both existing and new customers in the field of industrial technology will continue to be served.
Röchling Medical Waldachtal supplies among others the medical technology sectors cardiology, infusion therapy, angiography (CT/MRT), surgery and ophthalmology. The Industrial Division supplies selected segments with extrusion profiles, sophisticated injection molded parts as well as valves, flow meters and fittings. In recent years, Waldachtal has strengthened its own development activities and introduced innovation management by working in partnership with various customers in both the medical and industrial technology sectors. In addition, the site has acquired considerable expertise in regulatory affairs (certification, registration and approval).
Last year, the Röchling Group as shareholder generated sales of 2.14 billion euros with its three divisions Industrial, Automotive and Medical. The Mannheim-based plastics specialist has almost 11,000 employees at 90 locations worldwide.