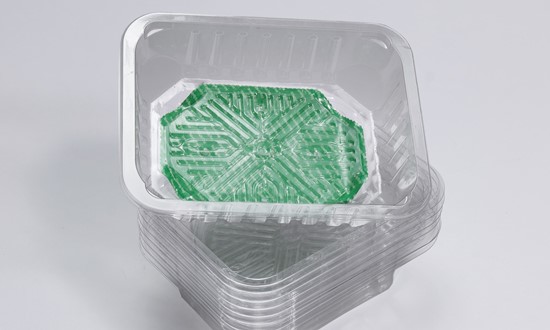 The Leeds-based thermoformer will exclusively produce GravityTray – a plastic tray that uses gravity rather than absorbent soaker pads to remove liquids from packs of meat and fish. At present these pads render such trays unrecyclable, a problem further exacerbated by the fact that trays are currently produced from a variety of different materials, meaning recycling even without the pads is extremely unlikely.
Nigel Coates, LVF Packaging's managing director, said: "An estimated 200-million plastic trays featuring soaker pads are manufactured in the UK alone every year, which equates to approximately 5,000-tonnes of plastic that simply can't be recycled."
"Staggeringly, the soon to be introduced UK Packaging Tax will fail to have any impact on this frightening statistic because under its rules plastic trays can be produced using any material with a minimum of 30 per cent recycled content. The vast majority already are and aren't recycled – nothing will change because of the tax."
"In Europe, the new Packaging Tax introduced by the European Council works differently in that it gives them the power to tax member states 800 Euros for every tonne of plastic packaging that is not recyclable. Clearly member states will look to recover this by passing the tax down the line so it's easy to see why retailers are running scared of how this might hit their profits; enter GravityTray – the fully recyclable alternative."
Like all the best innovations, GravityTray works because of its simplicity. All the liquid from the content drains through holes in the centre of the tray into a sealed external reservoir, which ensures that the content, whether that be meat or fish, isn't sitting for days in its own juices. In addition, the lack of an absorbent pad takes away any risk of cross contamination.
Furthermore, GravityTray is manufactured solely from mono PET – the result being that every GravityTray manufactured is guaranteed to be fully recycled.
"The unique design of GravityTray makes it easily identifiable," added Nigel. "And the guarantee that it will always be produced from mono PET takes away the need for any intelligent sorting equipment at the point of recycling."
The goal for GravityTray and LVF Packaging is to replicate the recycling success of clear plastic bottles – the vast majority of which are recycled because they are made as standard from PET. Furthermore, the washed bottle flake produced during recycling is then sold back to bottle manufacturers, creating a closed loop, bottle-to-bottle economy.
"It's going to take a real Eureka! moment to find a packaging solution, especially for food, that is better than plastic trays so a tray-to-tray circular economy is the only sensible option," continued Nigel. "GravityTray puts in place the technology and the onus is now very firmly on food manufacturers and retailers to make the switch."
Phil Johnson, managing director of GravityTray UK, said: "The agreement reached at COP26 has for the first time provided a global view on what needs to be done to save the planet. It is though still vital that every industry plays its part; and when it comes to plastic trays this means taking the necessary steps to ensure each and every tray that is manufactured is recycled."
"GravityTray is the first plastic tray packaging solution that guarantees this can happen; and I hope it will be quickly adopted so that its potential becomes reality."