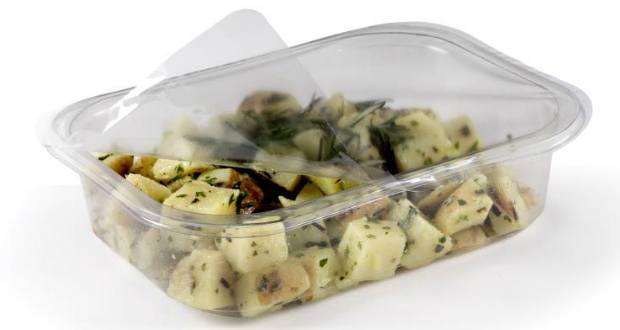 Part of the KPeel family of highly versatile peelable polyester lidding films, this leading-edge solution conquers the sealing and contamination challenges created when packing tricky foodstuffs, such as oily products, processed vegetables, pasta and sauces. 
Key features of KPeel PLUS+ are the heavier heat seal coating and wide sealing range, delivering enhanced performance in both hot and cold conditions. Sealing to APET, RPET, CPET, Mono CPET and PP trays as well as PET and Epoxy lacquered aluminium trays and PET lined pressed board trays, this range of lidding films can be used for a multitude of food applications including ambient, chilled and frozen, is dual ovenable and available with or without anti-fog. Even when no contamination issues are present, KPeel PLUS+ delivers a firmer, stronger peel minimising loss and food waste in the supply chain.
Nigel Down, Head of Technical at KM Packaging, said: "KPeel PLUS+ enables us to deliver a broad range of high performance solutions that combine a heavier heat seal coating with excellent transparency, clarity and print properties. We can therefore tailor solutions for our customers' specific sealing conditions without compromising on pack functionality and performance.
"This results in real, measurable benefits including time and cost savings, as well as enhanced presentation, so important in today's dynamic retail environment. KPeel PLUS+ provides effective and reliable seal performance when other solutions simply fail to meet the standard."
To meet the needs of a wide range of pack applications, KPeel PLUS+ is available in thicknesses from 16-40 microns and is particularly relevant to manufacturers where there is a high risk of food contamination of the tray flange or a unique tray design is being considered.
With over 30 years' experience, KM Packaging delivers advanced packaging solutions and expertise to food manufacturers around the globe.