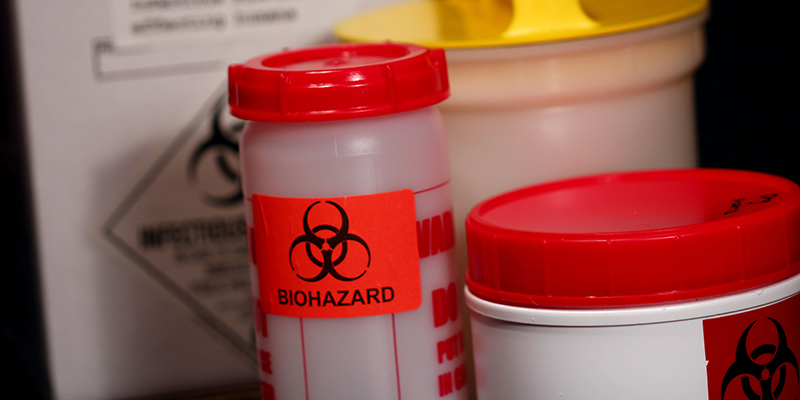 The transportation & storage of BioHazardous Materials such as medical specimens, medical waste and virulent, infectious substances require the utmost care and security. Because these substances can pose safety and health hazards, any cases used in shipping or transport must meet strict regulations and standards. 
azardous Materials (HAZMAT) cases & containers are subject to stringent UN and IATA guidelines, especially for air transport. To ensure compliance, it is critical to use only the highest quality certified containers for packaging, storage and transportation of biohazardous materials.
Cases2Go offers a wide range of aluminum cases which are approved as composite packaging (Code UN 4B, 4BU, 4BV, 4BW, 50B) and are available with UN Certification for the transport of Biohazardous Materials. Our extensive selections of UN4B Aluminum HAZMAT containers are both stackable and palletizable. Durable and sturdy, they are equipped with stainless steel hinges, two lid straps, and a choice of water-resistant, water-tight or water-vapor proof peripheral seal. Cast aluminum stacking corners and beading at the periphery and corners add strength and stability. For security, each aluminum box can be secured with a plug lock, padlock, or lead seals. A heavy-duty ergonomic handle eases the comfort of transport. These cases can be custom-ordered with special features like skid bars and drop handles which ensures that these universal containers will work in any transport or shipping situation.
UN IATA compliant containers from Cases2Go meet the rigorous 4B performance requirements of the UN Dangerous Goods Regulations, exceed ATA Specification 300 Category 1, are MIL-STD-810D compliant, and have an ingress protection rating of 54 (IP 54). These containers are suitable for thermally controlled transport using dry ice or other coolants. The Class 6.2 infectious substance composite packaging containers are available with or without insulation inserts and secondary inner packaging, ensuring they will be suitable for whatever specific shipping or transport needs you require.
Cases2Go is prepared to meet the dangerous goods transit requirements of any industry. All of our Biohazardous/HAZMAT cases are UN IATA approved and certified outer containers. We help clients create custom solutions which meet the application requirements for biohazard containment and transport. You can contact us for a quote for dangerous good cases and let our team find and build the perfect custom case to safely transport these hazardous materials.
Lead time is contingent upon Hazard Class of contents and stock availability at time of order. Cases certified for Packaging Groups II and III are generally available for shipment within 1 week. Packaging Group I certification and/or custom foam interiors may have longer lead times.