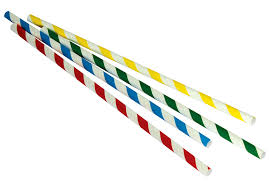 The Antrim facility operates initially as a dedicated paper straw manufacturing site. Going forward, Huhtamaki plans to expand the range of products manufactured at the site to other paper-based product categories. The first wave of manufacturing equipment is taken into use during 2019 and further investments in additional manufacturing equipment are planned for 2020-2022.
"At Huhtamaki we are continuously looking for ways to improve the environmental performance of our products and to introduce new, more sustainable packaging innovations," says Ciaran Doherty, General Manager for Huhtamaki Foodservice in Northern Ireland. "The launch of our paper straws is a good example of this. We are extremely proud to support our customers in their strategy to have a more sustainable and environmentally responsible supply chain by opening this new site."
Huhtamaki paper straws are made with new, purpose-built machinery to deliver a premium product. 100% of the paper used for the straws and wrapping come from sustainably managed forests. Huhtamaki plans to expand paper straw manufacturing to further manufacturing units in Europe during 2019.