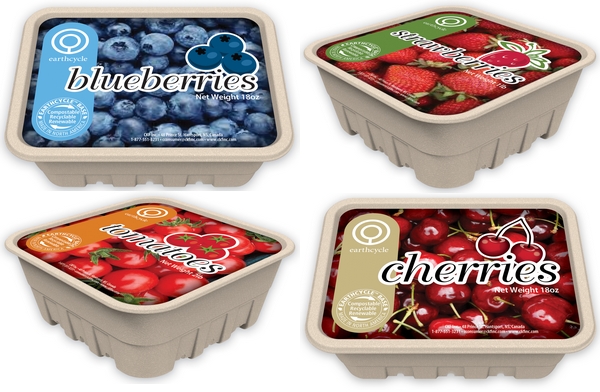 The packaging was tested by the recognized and accredited third-party lab, OWS N.V and proven to meet the stringent guidelines, including 90% biodegration and no toxic effect on compost, according to a news release.
CKF is now in the process of applying for the Australian seedling logo for its customers to display on retail packaging.
Obtaining the Australian certification for home compostability is critical for the expansion of Earthcycle packaging in the region, according to the release, including for one of CKF's major clients, Fresh Berry Co Pty Ltd. 
"Proof that Earthcycle meets Australian standards for home compostability sets us even further apart from competition — not only do we have a package that is 90% less plastic for our superior tasting berries and tomatoes, but we now have a package that meets stringent retailer requirements for certifications," John Pettinella, product development director at  Fresh Berry Co., said in the release.  "We introduced the CKF product to the Australian market three years ago confident in the knowledge that CKF would support our initiatives and meet the requirements specific to Australia. That confidence was certainly not misplaced and we are now in a position to provide further support to our retail customers with our fresh produce presented in a package their consumers can either home compost directly or recycle."
Earthcycle packaging resonates with consumers trying to reduce their use of single-use plastics, according to the release. A June 2019 global survey by Accenture revealed 77% of those surveyed felt that plastic was the least environmentally friendly packaging and close to one-quarter of consumers choose to no longer purchase food that is packaged in plastic, the release said.
"CKF extended our list of independent environmental credentials to include the AS 5810 (2010) standards for home compostability for two reasons: we believe in the Australian market and we believe in Fresh Berry Co.," Brad Dennis, CKF vice president of sales and marketing, said in the release. "We recognize that international markets are unique in their approaches to sustainable packaging and for Australian growers and retailers, certification to home compostable standards developed by and for the Australian market was important to meet.  Furthermore, we want to support the pioneering work being done by Fresh Berry Co to develop the market for Earthcycle packaging in the country".
The release said Earthcycle produce packaging is also certified home compostable to European standards and is considered widely recyclable in waste paper streams and is FSC (C145472) certified.  Earthcycle has an extensive product line of top seal punnets for soft fruit, tomatoes, grapes, and mushrooms along with industry standard trays that are used with flow wrap and over-wrap applications, the release said.