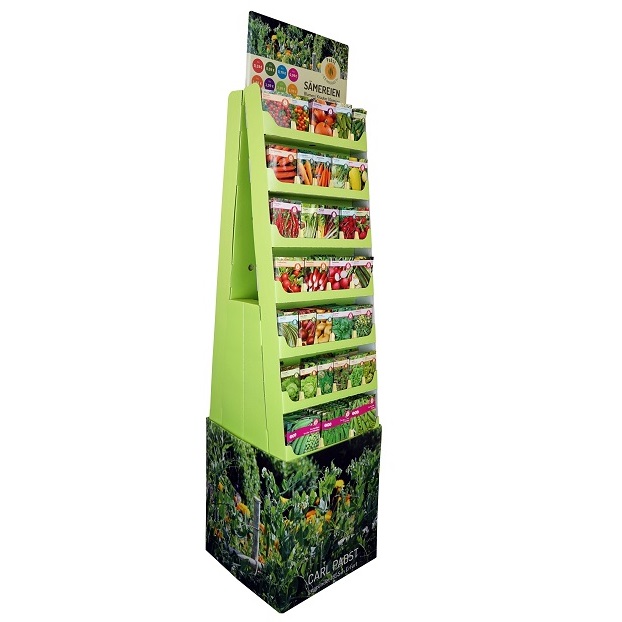 As yesterday so today, the brand Carl Pabst represents tradition and innovation. Their range of products, already sold in portion packs in 1897, was not only the first in the market with its own catalogue, but the idea of filling seeds into little bags with pictures on them was also introduced by the family-run company and their long-standing brand Keimkraft. The company called Carl Pabst Samen und Saaten GmbH today, located in Grossbeeren near Berlin, still treads creative paths in sales promotion. The diverse product line ranges from old breeds to modern convenience seeds in organic quality covering everything amateur gardeners need for sowing and cultivating flowers, vegetables and herbs. A big portion of the more than 1,000 varieties is sold in food retail stores, where solely displays are used for the presentation of the goods.
Flourishing business: The attractive seasonal presentation by DS Smith skilfully stages Carl Pabst seeds at the point of sale. The kicker: The ready-for sales display is delivered directly to the retailers in a shipping carton.
When previously ready-to-sale assembled stand-up displays only found their way into the store on pallets, selected groups of goods are now delivered by courier service – just in time for the beginning of the season. This was made possible by the new shipping display developed by DS Smith. For transport, the two drawer-containers with the pre-glued rack bottoms are placed back-to-back in the shipping carton. A filling piece and two security ribbons on each side make sure that the seed bags do not fall out of the drawers during transport. In addition to the efficient product securing, the material-saving solution guarantees the required dimensions for parcels and therefore an entirely cost-optimised shipment.
Once arrived at the retailer's, the seasonal display already filled with the goods is easy and quick to assemble. Only a few touches are necessary before sales can start. The smart construction by DS Smith saves Carl Pabst material, time and costs for assembly and transport. At the same time, the solid and attractive shipping display always cuts a good figure on any sales floor. The drawer-containers offer a maximum presentation surface. Together with the adaptable pedestal and top sign, supplying every product line with a unique brand identity, they expertly stage the seed bags or potting sets. The display proves to be nature-loving even after use, since the mono-material solution made of corrugated board allows the display to be entirely recycled in the waste paper cycle.