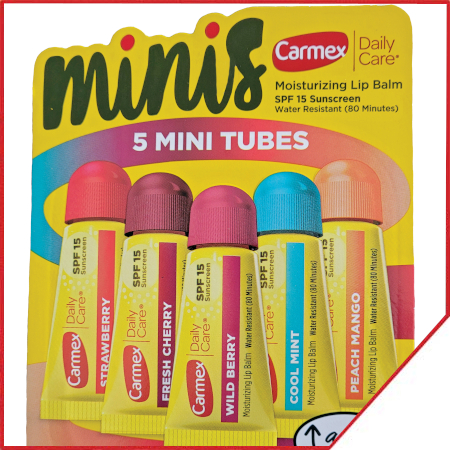 When it comes to sustainability, paperboard packaging presents a fully recyclable alternative to plastic blister packaging. So when Carma Labs, the Franklin, WI makers of Carmex® Lip Balm, approached Colbert Packaging for a specialty packaging solution, Colbert's packaging engineers chose the EnviroGuard® product, a 100% paperboard formed tray. Judging by repeat orders, and the reaction of one happy customer via a TikTok video with nearly 30,000 views, the Mini 5-pack rollout was a hit!
In addition to seeking a more environmentally-friendly packaging solution, Carma Labs required that the solution would communicate product features and accommodate more product in the package, while maintaining a clear brand identity. "Today's shoppers rely on visual cues to hasten the hundreds of decisions they need to make," said Wanda Speer, Marketing Manager for Colbert Packaging. "Once they've made a commitment to brand loyalty, their eyes search for the familiar package. When Carma Labs asked for a sustainably-sourced alternative to the plastic blister, our packaging engineers looked to our 100% paperboard formed tray solution."
As a business best practice, Colbert continues to innovate with paperboard packaging solutions using less material, increased recyclability, water- and agri-based inks, coatings and adhesives. "Our formed tray solution is continuously improving and evolving, based on customer demand," says Colbert President John Lackner. "We can emboss for an upscale or 3-D effect, add cold foil decoration, pilfer-resistance, anti-counterfeiting or security devices. There is no limit on creativity with this product." Read the complete EnviroGuard – Carmex Case study here.