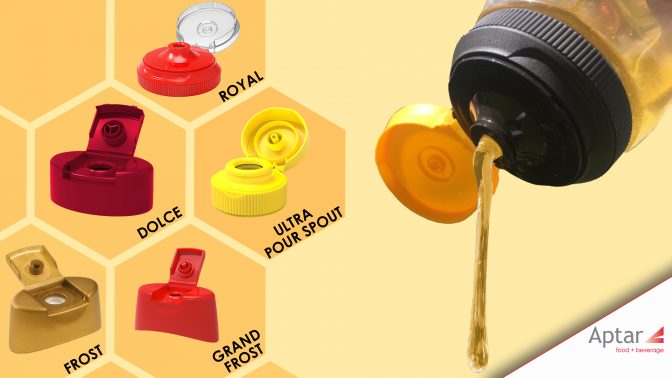 Clean and airtight closures
Understanding the messy experience associated with dispensing honey, Dolce, Royal, Ultra Pour Spout, and the Frost collection are integrated with Aptar's no-drip SimpliSqueeze® valve. The valve assists with clean product cutoff, reducing unwanted spills, and keeping the bottle clean. Additionally, these dispensing closures ensure proper dosage and add stability, bringing even more convenience for consumers. On top of cleanliness, the valve promotes product freshness by limiting the amount of air that gets inside the bottle.
Ease of use
These solutions are perfect for inverted packaging as their wide bases provide stability for the package, and the large finger recesses and easy-open lids allow for one-handed use. Consumers can easily lift, squeeze, and close the lid, all with a one-handed convenience.
Sustainability
Aptar aims to reduce the amount of materials in its solutions, and this is no different with Royal, Dolce, Ultra Pour Spout, and the Frost collection. These closures also have the capability of using Aptar's Swimming Silicone Valve, which can be easily sorted out in the PET recycling stream, without impacting the PE/PP stream.
Eye-catching design
Aptar has many stock color options, and can also customize to meet each brand's needs, helping the final package to stand out on store shelves. Aptar's Royal closure further helps grab the attention of consumers with its bi-injection capability, allowing for multiple colors.
In addition to the honey market, these closures are also great solutions for markets such as sauces and condiments, jellies, spreads, syrups, among others. These innovative closures provide a balance of functionality and design, delighting consumers and helping to grow brands through packaging innovation.