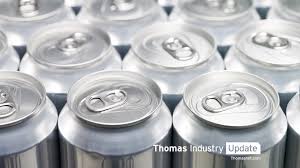 According to Anheuser-Busch, it will work with metals giant Rio Tinto on bringing low-carbon aluminum to its cans via a manufacturing process that will ultimately cut carbon emissions by 30% per can. This falls under the beverage giant's pledge, launched in 2018, to cut carbon emissions by 25 percent across its supply chain by 2025.
The partnership with Rio Tinto will reportedly leverage a disruptive new process called ELYSIS, a type of zero-carbon aluminum smelting technology, in tandem with using renewable hydropower for manufacturing.
Michelob Ultra, the fastest-growing beer brand in the United States, will be responsible for a pilot project of a million cans produced using the new process. While 70% of the average Anheuser-Busch can is already made of recycled materials, pairing it with low-carbon aluminum will mean cutting carbon specifically in the packaging supply chain, which is the sector of its process responsible for the most emissions.
According to AB's Vice President of Procurement and Sustainability, Ingrid De Ryck, the new project "will bring low-carbon aluminum to the forefront with our consumers and create a model for how companies can work with their suppliers to drive innovative and meaningful change for our environment."