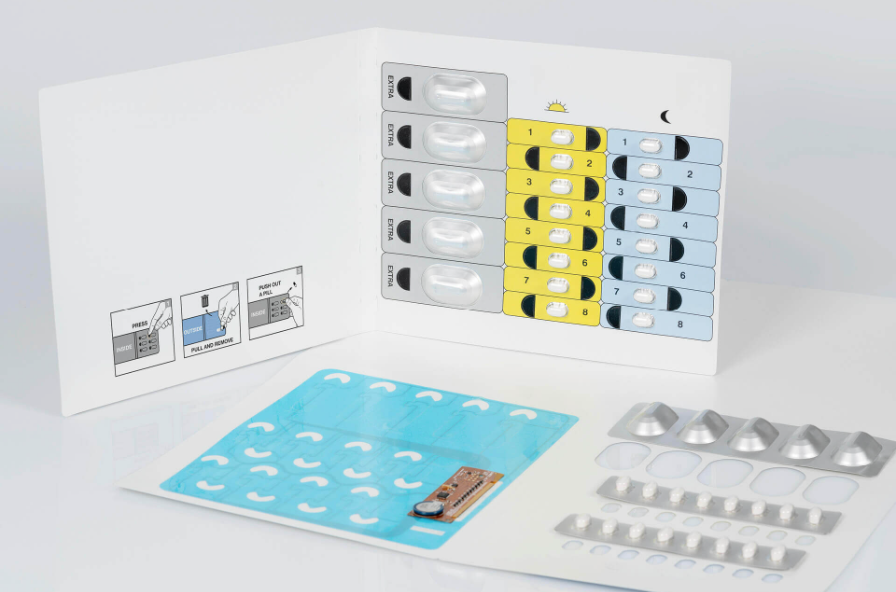 Aditya Panwar
Key-Pak® is a flexible and versatile blister pack solution from Keystone Folding Box Company that is suitable for a variety of tablet forms, dosing regimens, and blisters. It has a special feature for opening the cavities ensuring a high level of child resistance as well as seniorfriendly use. Since its introduction in 2003, Key-Pak® has established itself as the clinical packaging standard and has been used in thousands of studies.
Schreiner MediPharm extends the child-resistant Key-Pak® Blister Wallet by an electronic function for digital medication monitoring. The blister wallet can be customized according to the respective clinical trial and its dosing regimen such as number of cavities, arrangement of the blisters, and various forms of tablets. Schreiner MediPharm's development proprocess ensures that the design of the integrated conductive lines is optimally adapted to the cavities. This guarantees that real-time data are automatically generated when the patient pushes a tablet out of the blister pack.
To track medication intake, for example, the time of removal, dose, and respective cavity are stored in the pack and transmitted by means of NFC or Bluetooth.
The Smart Blister Wallet based on Key-Pak® combines child resistance with high user friendliness for the patient and enables great flexibility for use in clinical trials. Digital tracking of patient compliance and the data gained optimizes processes, shortens trial periods, and accelerates approval processes for new drugs.