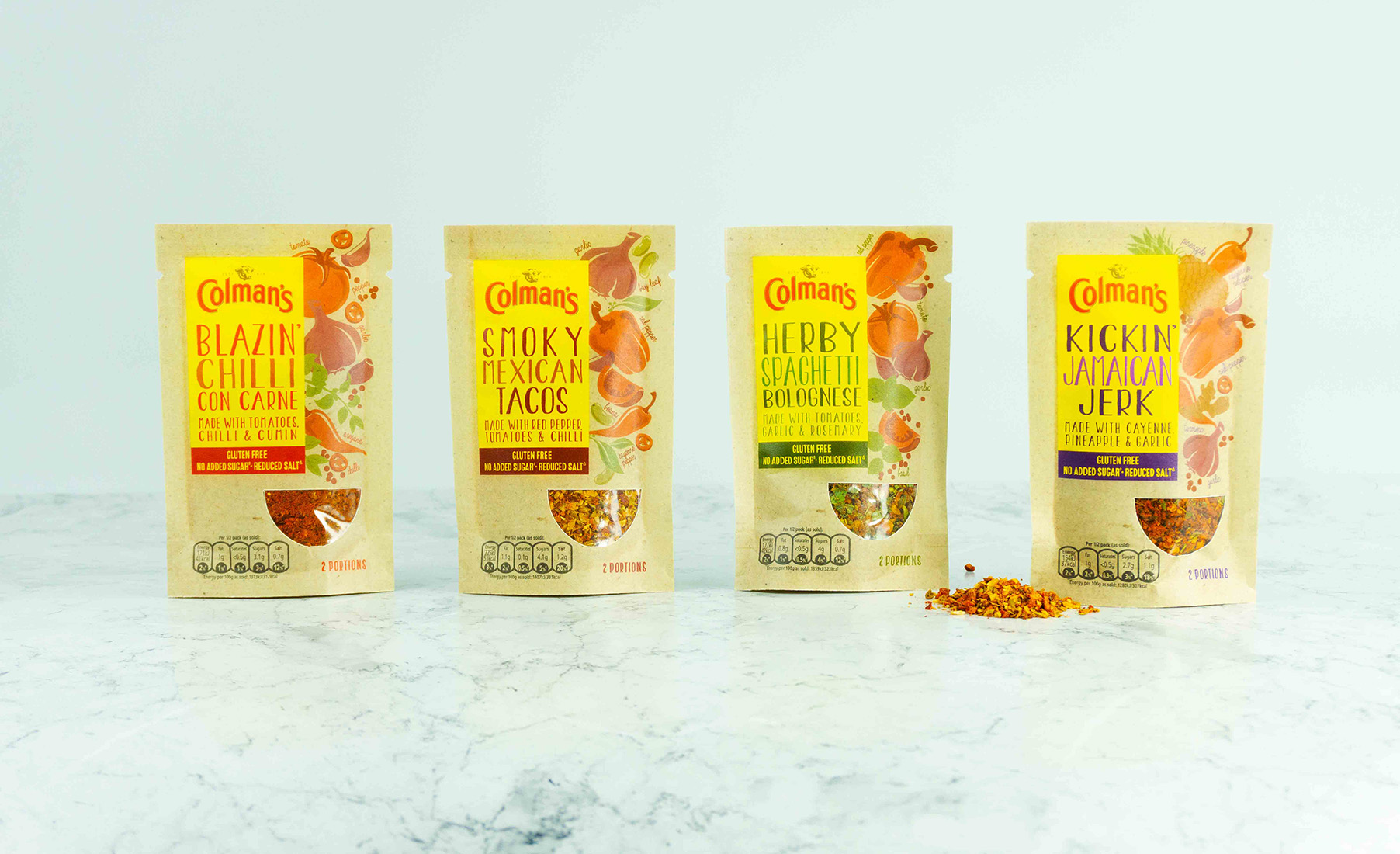 An increasing interest in healthy living means consumers look for natural products and more 'free-from' products enter the market. A newcomer on the UK market is the Colman's range of seasoning blends developed by Unilever and packed in a unique paper material from Flextrus.
Nathalie Monecke, Senior Assistant Brand Manager at Unilever says; "The reason we launched this new seasoning blend range is because shoppers are increasingly looking for products that fit into a more natural and healthier lifestyle, and at the same time, we're seeing a rise in the number of consumers that are seeking out gluten-free, reduced salt and reduced sugar products."
The company had a clear target to launch the product range quickly and turned to Flextrus. Through a three part cooperation packaging ideas and mock-ups turned into real prototypes using the material knowledge from Flextrus, digital production at Mediaköket and pouch making and filling by an external partner. All with the aim to make a packaging which matches the packed product perfectly.
Nathalie Monecke continues;
"To reflect the natural credentials of the range, we wanted our packaging to have a 'brown paper bag' look and feel, with a window at the front ensuring the blend of herbs and spices are clearly visible. This natural look and feel is designed to appeal to a new and younger audience who are looking for modern meal solutions in an easy-to-use format."
The paper-based stand-up pouch with tailored barrier include window and easy tear opening made with contour laser scoring. The development process was faster than ever achieved before by Unilever in this product range. The joint project started in the end of 2017 and the seasoning blends in its unique packaging were launched in UK stores in June 2019.
Helene Brynell, Sales Manager at Flextrus says;
"I think Flextrus is a perfect match when it comes to innovative packaging where its kit of competences works impeccably for both medium sized companies and big global brand owners. In this Unilever project we supported with paper and barrier expertise, printing know-how, laser cutting capabilities as well as technical proficiency in packaging machines. Our leadership in digital printing at Mediaköket, along with the production resources at Flextrus to scale up to larger runs when a digital project works out well, is a perfect set-up to service customers in a fast and efficient way."