Post innovation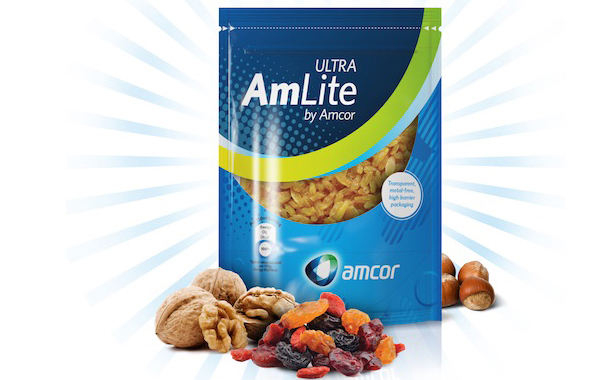 High barrier metal free packaging
Designation:
Marketing Communications Manager
Today metal-free packaging links to the desire for more sustainable packaging solutions. Many products that are highly sensitive to moisture and oxygen, however, remain hidden from view inside opaque materials. Traditionally, products needing a very high barrier were packaged in aluminium-based materials, considered the standard of high barrier packaging.
AmLite Ultra is now a new option that can meet marketing needs and barrier performance needs for sensitive products.
AmLite Ultra is the latest addition to Amcor's existing line of AmLite, metal-free packaging. It offers an even higher barrier, using Amcor's Ultra SiOx coating, with oxygen barrier levels comparable to that of aluminium. According to the MOCON Inc. test certificates, the AmLite Ultra oxygen barrier eventually outperformed aluminium by 30% at 100 Gelbo-Flex cycles.
The AmLite line of products also offers a significant environmental benefit by reducing material use. In a lifecycle assessment, AmLite provided a 40% carbon footprint reduction and 21% weight reduction compared to standard Alu-based materials. AmLite Ultra can be used for a range of ambient dry food products, as well as medical and personal care products. It also offers excellent sealing properties and a strong seal to create a variety of pack formats, including bags, stand up pouches and spouted pouches, flow packs, sachets, and more.