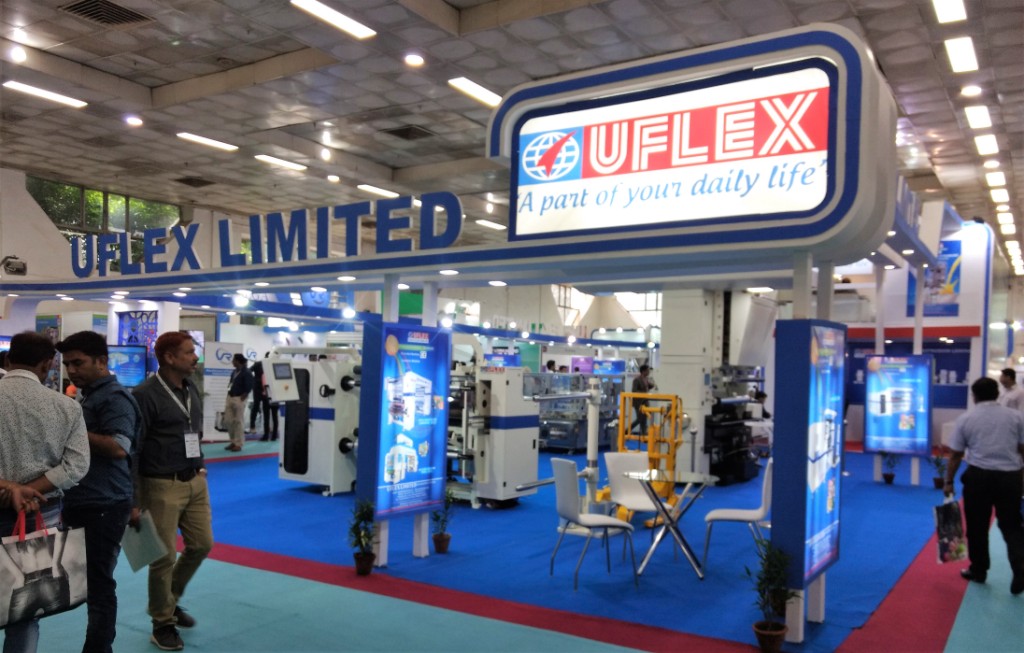 Uflex, a company that we met at Packplus 2017, is the India's largest flexible packaging company and an emerging global player. The company has shown robust growth over the years and focusing on trust, value creation for customers, quality and innovation and customer satisfaction. We had a glimpse over the core businesses like Engineering, Cylinders & Chemicals and Holography divisions. PackagingConnections.com had an opportunity to meet Ajay Tandon, President & CEO-Engineering & New Product Development, G.P.Pathak, Vice President- Holography Division, Rakesh Jain, GM-Marketing – Cylinder Division and other team members, for discussion about company's focus areas and participation in the Packplus 2017.
In this event, Uflex Engineering had showcased four types of machines, displayed electronic line shaft area printing station , pick fill seal machine which can seal the free form pouches filling and form fill seal machines, which is the high speed machine displayed here, then there was also displayed here echo split sealing machine. Ajay Tandon, President & CEO of Engineering division, says, "We have 90% share in the Indian market. We make lot of innovations, patents, we keep on producing new things, we value money for customers, keep over technology and stay ahead of competitors.." Ajay Tandon adds, "We have technical collaborators & technology partners for gravures printing machines".
In Holography Division they spoke about specialized anti-counterfeit solutions to offer while in Cylinders division they have specialized printing cylinders for flexible packaging.  G.P.Pathak from Holography Division, shared to us about New product launched called as fresnel lens which is Micro structure. He says " It is done using UV, through which we make fresnel lens and sterling lens. To overcome the duplicacy in packaging we make many new and innovative designs are created which can be seen physically with naked eye". Audio recording is also found over hologram where product itself indicates with alert signal about the authencity along with audible voice. According to Pathak, there are many duplicacy is happening in pharma industry like flexible/carton where we have been working with various solutions. Uflex made innovative and complex solution is designed for pharma industry to enable critical security feature using special sterling and holography, which is not easily available in current market. Few products are also made which used in Thermoforming Pharma to avoid duplicacy.
In carton packaging many new products are made and name few of them are like thermal film holographic launched. Zinc film transparent holographic film which is used above printing and laminated to give visual appeal, Strengthening and Security. "We have also made many security featured products for Auto mobile industry, Books and Stationery where we have made thermal film which can be laminated without adhesive. We give complete one stop solution by providing Machine and material like security hologram, stamping foil, holographic packaging material, Fresnel lens registered and un-registered, holographic Zinc material, holographic thermal material etc. We also majorly supply Fresnel lens hot stamping foil to Textile industry and Packaging Industry. We always strive for latest technology"  says G.P.Pathak
"Holography is a concept selling, people are very clear to protect their brand and if they protect their brand they protect their bottom line. So there is lot of thoughts going from the brand owners also to invest on these kinds of activities, as far the market is concerned, to just give an example Uflex setup a plant in 2013 and invested about hundreds of crores. Initially turnover was very minimal, since last 2 years we have been doing well with over 350 crores this year. We are further investing nearly 150 crores in upcoming Jaipur plant. What we are trying to tell here is that growth in the market is dependent on the sellers in the market. There is a huge demand in the market for Holographic division since 3-4 months and to meet the demand, we have been building the resource bank before going into the market.  The way business is moving today we can see the plant also working on its full capacity for next 12 months." says Rakesh Khazanchi – Asst. Vice President ( Marketing).
 Uflex's Holographic division performing exceptionally well with this year turnover estimated at 600 crores and another 2 years expected to achieve 1000 crores. In india there are 40-45 holographers summing up turnover of approx 1000 cr and Uflex, Holographic Division has estimated 50% share. Uflex has range of many holography products like security hologram like government tenders, Bisleri water bottles, Beer Bottles, country liquor, Auto Parts, Stationery, pharma, FMCG, electronic, electrical parts.
Uflex's Cylinder Divison which is also a World leader in manufacturing of Gravure Printing Rollers & Flexo Printing Plates & Sleeves showcased their products 
Gravure Cylinders : a) Laser Engraved Printing Cylinders b) Special Purpose Coating Cylinders c) Embossing Cylinders d) Anilox & Hotmelt coating Cylinder 
Flexo : a) Elastomer & Polymer Flexo Printing Plates b) Elastomer Printing Sleeves
"Packaging has come of age transcending much beyond the traditional role of mere containment, preservation, protection and identification of a product. The jouney of packaging will hereafter be defined by how the GEN-NEXT would like it to be!!!"
Get a chance to catch up with Mr.Anantshree Chaturvedi, Vice Chairman & CEO, Flex Flims International as he delivers a key note on: "The Packaging Demands of the Next Generation Consumer"