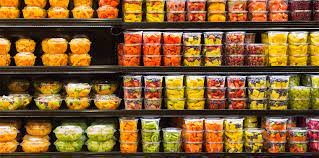 The Food Safety and Standards Authority of India (FSSAI) was established under Food Safety and Standards, 2006. It consolidates various acts & orders that, until the formation of the authority, handled food related issues enforced and monitored by various Ministries and Departments.
FSSAI was created to lay down science-based standards for articles of food and as a regulatory body to oversee the manufacture, storage, distribution, sale and import of the same food articles. This ensures availability of safe and healthy food for human consumption.
The aim of the 2006 Act was to establish a single reference point for all matters relating to food safety and standards which also ultimately led to the creation of FSSAI. Ministry of Health & Family Welfare, Government of India is the Administrative Ministry for the implementation of FSSAI.
Let's look at an exhaustive list of food-safe materials sanctioned by the FSSAI.
A basic requirement for "food-grade material" is its inability to change the composition of the food and/or transfer harmful toxins into the food that it contains. 
Paper and Board Materials
Paper and board materials used in primary food packaging is expected to be free visible specks, grease marks, cuts, pinholes and other blemishes.
Grease proof paper is required to be tested in accordance with IS:4006 (Part II) according to IS 6622
Vegetable parchment or grease proof paper/aluminium foil laminate, especially for wrapping butter shall consist of a layer of aluminum foil bonded to one layer of vegetable parchment or greaseproof paper with the help of food grade micro-crystalline paraffin wax adhesive according to IS 7161.
Aluminum Foil
According to IS 7161, aluminum foil should be fully annealed and shall comply with the requirements for chemical composition to SIC or NS 3 grade of IS: 737-1965
Adhesive
Adhesives shall conform to Type 1 of IS:4654-1968.
Plastics
IS 10146 (polyethylene), IS 10142 (polystyrene), IS 10151 (PVC), IS 10910 (polypropylene), IS 11434 (ionomer resins), IS 11704 (ethylene acrylic acid), IS 12252 (Polyalkylene Terephathalates) are standards that need to considered to use plastics in food packaging.
No inks, coatings or adhesives should be introduced into the wrapped food product so as to change composition, introduce a different odour, taste or toxins.