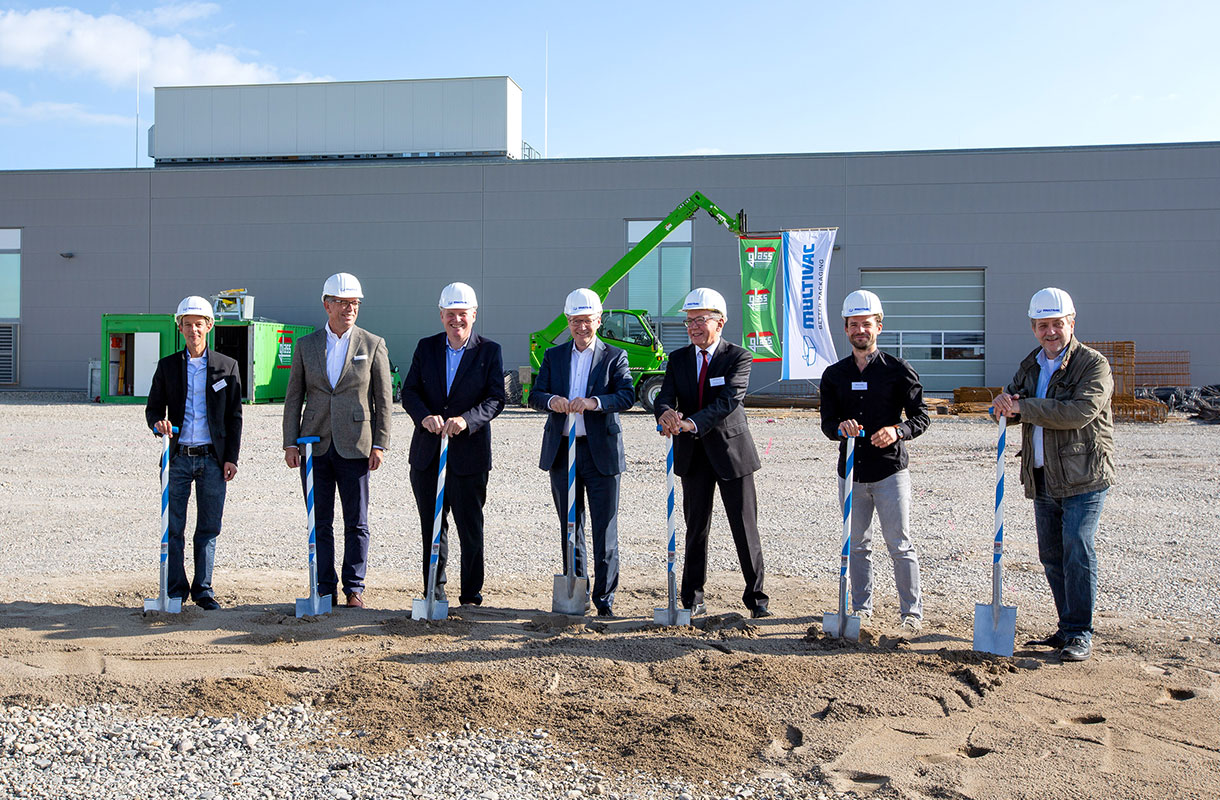 Wolfertschwenden, September 28, 2018 - Today, MULTIVAC's managing directors Hans-Joachim Boekstegers (CEO), Guido Spix (CTO and COO) and Christian Traumann (CFO) took the ground-breaking ceremony for the construction of a new building complex Wolfertschwenden ago. This is primarily intended for the new Slicer division. On more than 17,000 square meters of floor space, 180 state-of-the-art office workstations and flexibly usable conference and event rooms are also being created. The investment volume is around 35 million euros. Completion is planned for 2020.
"The new building complex has been designed as an application center for our new business unit Cutting Solutions, which is developing very well. Likewise, the commissioning of automated packaging lines will be carried out here in the future, "explains Hans-Joachim Boekstegers. "Over the last few years, we have successively expanded our portfolio with the process steps upstream and downstream of the packaging process. Most recently, we took an important strategic step towards better processing with the creation of the Slicer business. "
The production area on the ground floor of the new building 16 will cover around 7,500 square meters. Building 17 houses the new slicer application center, a reception and an additional company restaurant, which will extend over two floors. In addition, 180 state-of-the-art office workstations are being built on the second floor, as well as flexible conference and event rooms on the third floor.
In the application center, the Slicer offer, similar to the existing Training Innovation Center (TIC), will include sampling and machine demonstrations, as well as different training programs for MULTIVAC slicers and slicer lines. "We have designed the application center so that our customers find themselves in an environment that meets the real requirements of their own production facilities," explains Hans-Joachim
Boekstegers. "Our customers can experience the entire process chain live there: The spectrum ranges from the demonstration of individual slicers, ie the pure slicing of a wide range of products, to the presentation of different loading solutions after slicing to the actual packaging process. Customized testing and customer product trials can be performed, and the solutions can be tested for feasibility, performance, ROI calculations, giveaway provisions, and more. "
Numerous guests took part in the celebration, including Karl Fleschhut, First Mayor of the community Wolfertschwenden. The MULTIVAC Group employs around 5,600 people worldwide, with around 2,100 employees at its headquarters in Wolfertschwenden. Overall, the Allgäu production site currently covers more than 72,000 square meters. Most recently, in the spring of 2018, new production areas for the Traysealer division as well as additional office space for the control technology area with a total area of ​​around 4,000 square meters were completed and occupied.