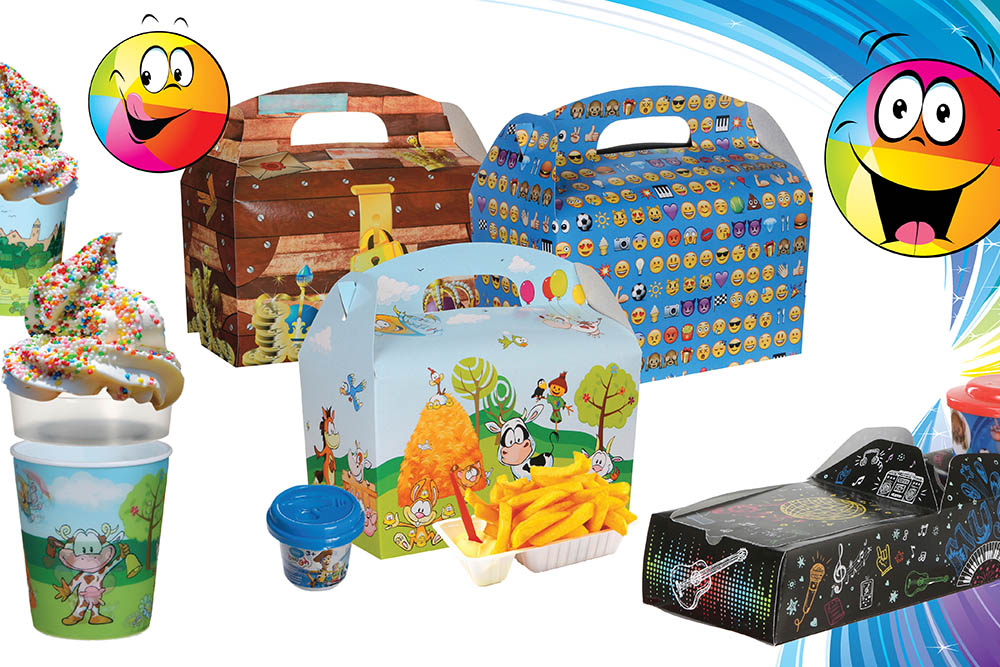 Make every kid's menu a fantastic experience with these complete sets of unique Winter menu boxes and lidded 3D drinks cups.
Winter menu boxes and drinks cups
Surprise your youngest guests by presenting them their order in an attractive Winter menu box with a matching 3D drinks cup. The menu box is covered with a beautiful all-over drawing of a winter landscape with laughing children snowboarding, skiing, skating and having a wild snowball fight. The lidded drinks cup looks like an icy landscape with seals, walrus, dolphins, polar bears and lots of cool penguins.
Sturdy and stackable menu boxes
The closed menu boxes are spacious enough to hold a complete kid's menu including both food and drink. The cardboard menu boxes can be folded into shape, filled and closed very quickly. You can also have a stock of ready-folded boxes to hand because being slightly wider at the top makes the boxes easy to stack. The sturdy bottom and large handles make the boxes easy to carry. That's good, because after the meal the boxes are invariably carried home by your delighted young guests.
Cups with lid and straw
The attractive 3D drinks cups come with a handy lid and a robust, re-usable bendy straw with a cap. They can hold a generous 300 ml and are suitable for cold drinks. Fill them with juices, fizzy drinks, yoghurt drinks or chocolate milk, or use them for a delicious ice-cream, milkshake or slush puppie. The cups are dishwasher proof.
Versatile
Our menu boxes and 3D drinks cups are high-quality and extremely versatile. They are ideal for presenting and serving kids' menus in restaurants and snack bars and are an eye-catching sight on terraces and during festivals and events. Their creative designs also make them perfect for kids' parties. And, of course the kids think they are great to take home to use time and time again.