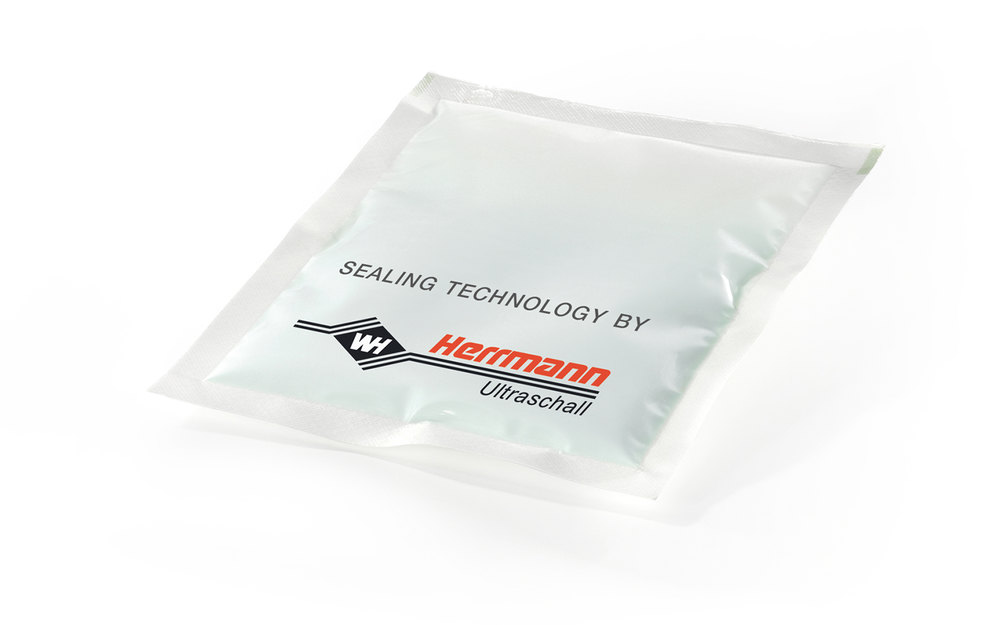 Klocke Pharma-Service GmbH, Appenweier, Germany, manufactures four-side sealed bags (sachets) completely using ultrasonic welding technology from Herrmann Ultraschalltechnik GmbH & Co. KG, Karlsbad, Germany. The packaging material is a pharma-standard paper-aluminum composite. On a 6-lane machine, the bag is being produced in two steps: the first station with 7 vertically mounted welding tools (sonotrodes) creates the longitudinal seams; the second step, the cross-seam sealing, is carried out with horizontal sonotrodes, which simultaneously produce the head seams of the preceding row of bags and the bottom seams of the subsequent row of bags.
Dr. Matthias Linder, CEO of Klocke Pharma in Appenweier: "We were looking for a solution for the packaging of a heat-sensitive product. Initially, we used heat sealing, but had a problem with leaking bags and high downtimes to clean the machine. Ultrasonic sealing, which we are now using successfully, has several advantages. First, it has hardly any thermal effect on the filling goods. Secondly, we were able to solve our problem with leaking bags, as the ultrasonic vibrations displace fill good remains from the seal zone. And ultimately, with this technology, we were able to significantly reduce downtime, both in routine operations and in maintenance. "
Herrmann Ultraschall is a manufacturer of ultrasonic sealing modules for industries such as food, pharmaceutical and consumer. At FachPack, the company focuses on pharmaceutical packaging, primary and secondary.
FachPack 2018: Herrmann Ultraschall at stand 211 in hall 1 and also in the special area "Theme Park Packaging in Medical Technology and Pharmacy" in hall 3A.