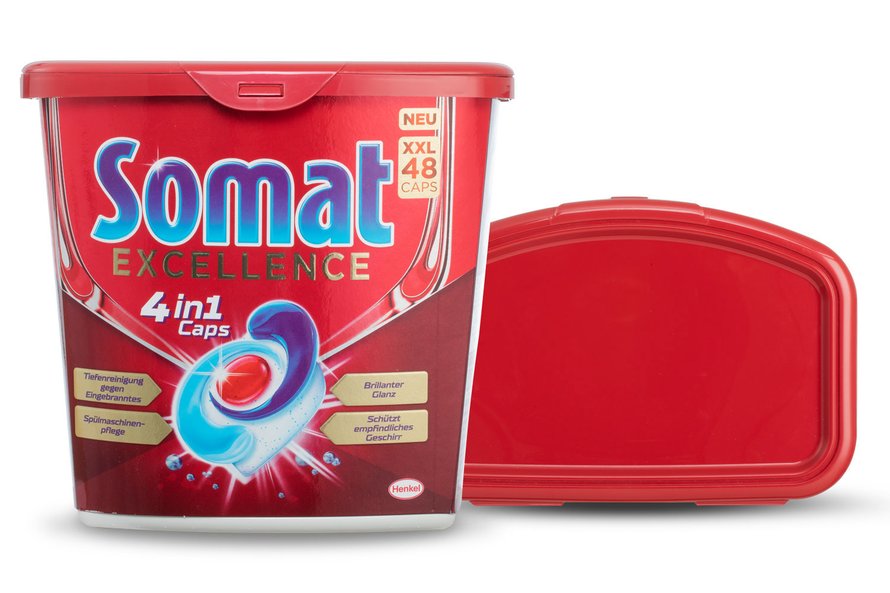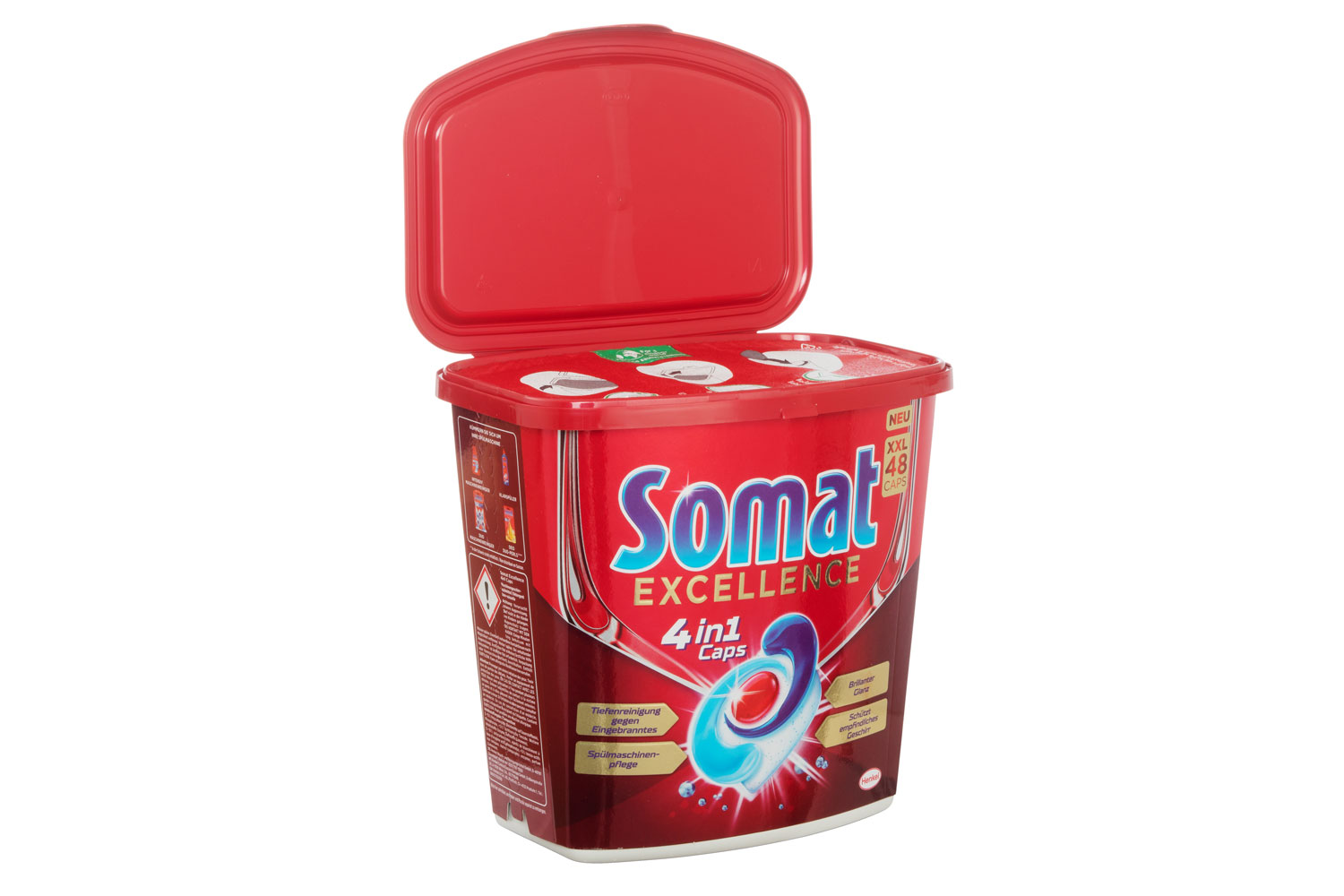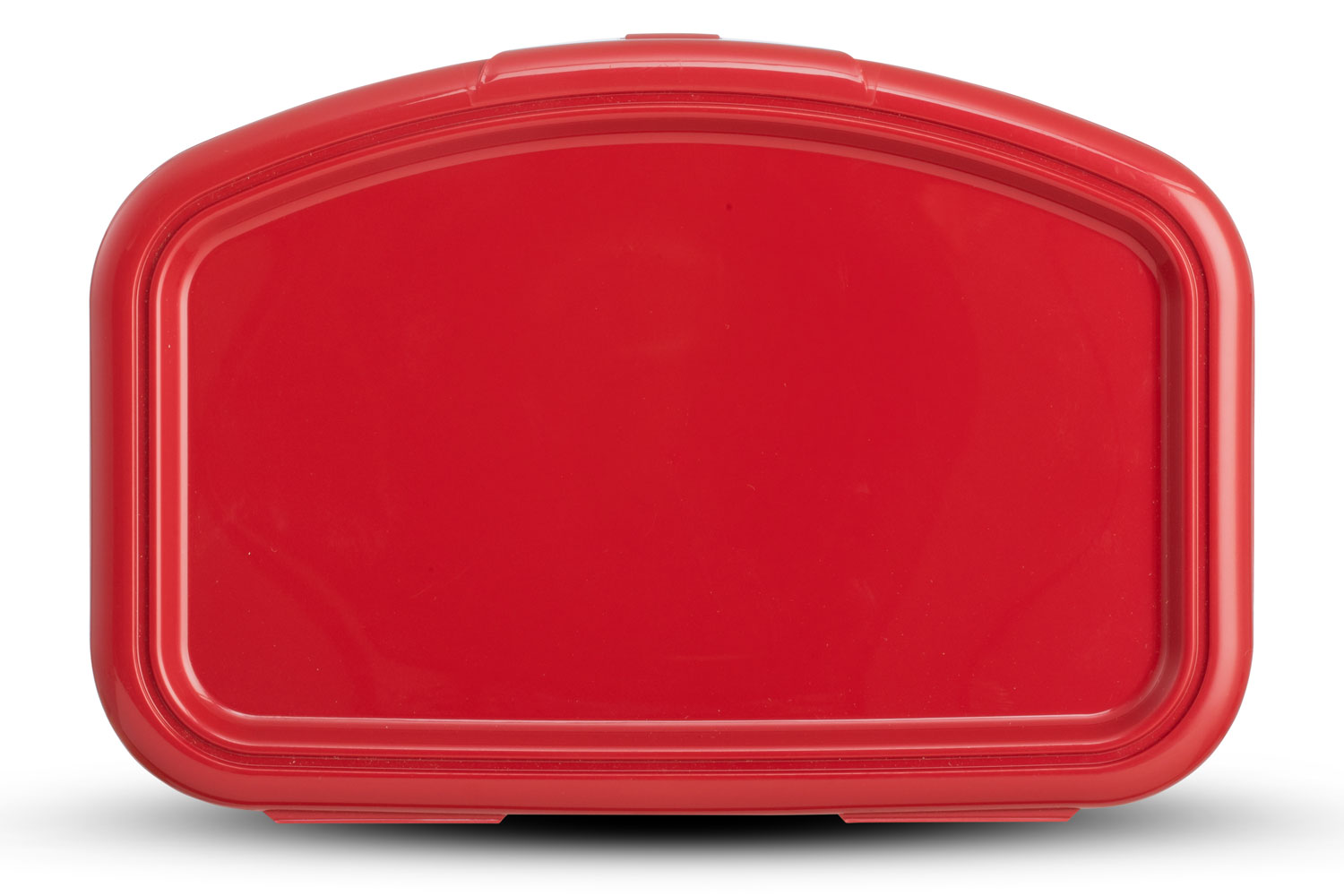 Brand owner Henkel is now using the sustainable cardboard-plastic tubs from Greiner Packaging, which contain 50 percent postconsumer recycled PP from end consumer households, in a new, innovative product for the Somat brand. The tubs previously received the World Star Award 2021 in recognition of the packaging for Persil 4in1 Discs, another Henkel product. This is a great example of how Greiner Packaging and Henkel continue to develop together based on a close, ongoing relationship – including making their packaging solutions more sustainable.
Tub made from recyclable material for positive environmental impact
Thanks to its innovative, patented tear-off system, the cardboard wrap and the plastic tub can be easily separated and recycled. Because the two components can be separately added to their respective recycling loops, the consumer benefits from a highly recyclable packaging solution. The wrap is made of cardboard consisting of nearly 100 percent recycled material. Greiner Packaging uses a two-stage process for the plastic tub itself: The inside of the plastic tub is made from white virgin material, which guarantees an optimal color contrast with the colorful 4in1 caps. The packaging's outer coating, meanwhile, contains 50 percent r-PP obtained from end consumer households. This layer's gray color has no impact on the packaging's look, because it comes wrapped in an attractively printed cardboard sleeve.
Innovative lid for impenetrable seal
Greiner Packaging also supplies the lids for Henkel's new packaging for Somat Excellence 4in1 caps. The team developed a special concept  for Henkel, featuring a sealing film that is built into the lid to provide an outstanding seal. Plus, the opening of the tub is calibrated ahead of time so that it fits with absolute precision – and the lid and tub fit together perfectly. These two special characteristics of the lid guarantee the best protection for the caps along with a top-class seal to prevent moisture from getting in.
Logistical excellence with K3®
Cardboard-plastic combinations also impress when it comes to logistics in the form of K3®-F packaging solutions. These lids, plastic tubs, and folded cardboard wraps are delivered separately to Henkel. Greiner Packaging's longstanding joint venture partner, Cardbox Packaging, supplies the wraps, which are then folded and slipped over the tub directly before filling at the company. This ensures a high degree of flexibility in production and keeps stocks to a minimum.
Packaging facts
Tub:
Material: PP (50 percent recycled material)
Technology: Thermoforming
Decoration: Cardboard sleeve
Lid:
Material: PP with integrated aluminum sealing film
Technology: Injection molding