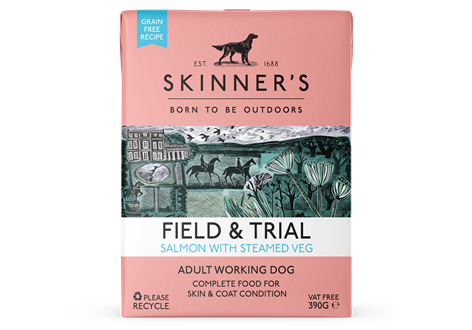 Made to be 100% recyclable and featuring a new eye-catching contemporary design, that brings to life the 'Born To Be Outdoors' message, the new look packaging will not only stand out on shelf but in the kitchen too.
Branding agency Big Fish worked with Skinner's, and designed the to play into the brand's long standing heritage with working dogs and sourcing local grains and British ingredients.
The contemporary, eye-catching design on its new Tetra Pak cartons for the Field & Trial Wet Food offering.
The Wet Food range comes in four new SKU's and the packaging has been specially and manufactured on site, made from over 70% paperboard to reduce single use plastic.
The design of the cartons means the food keeps fresher for longer and contains the same amount of product that you would get in the same serving in can.
The new Treats range come in three SKU's and are 100% recyclable, plastic free and compostable.
Tim Hansell, chief executive of Skinner's said: "Skinner's mission is to reduce our carbon footprint and single use plastics within our packaging. We have chosen Tetra Pak for our Wet Food packaging as it ticks the boxes for our many sustainability targets. It is fully recyclable, made of 70% paperboard and therefore lightweight, yet super sturdy and strong. Our investment into this area now means that as a group, we are the first British manufacturer to have the Tetra Pak capabilities in house. Whilst other dog food companies may use the packaging, many of these are produced abroad and shipped to the UK. In being manufactured in the UK, we are supporting our company ethos and reducing our carbon footprint all in one."
Perry Haydn Taylor, founder and creative director of Big Fish, said: "For their well-known Field & Trial range, we brought the story to life with illustrations, a colour palette and a voice that reflected the brand's heritage. And beyond its looks, we considered every last detail of the packaging to make life easier for their consumers, as well as finding sustainable, recyclable solutions that benefit a business so firmly rooted in the great outdoors."