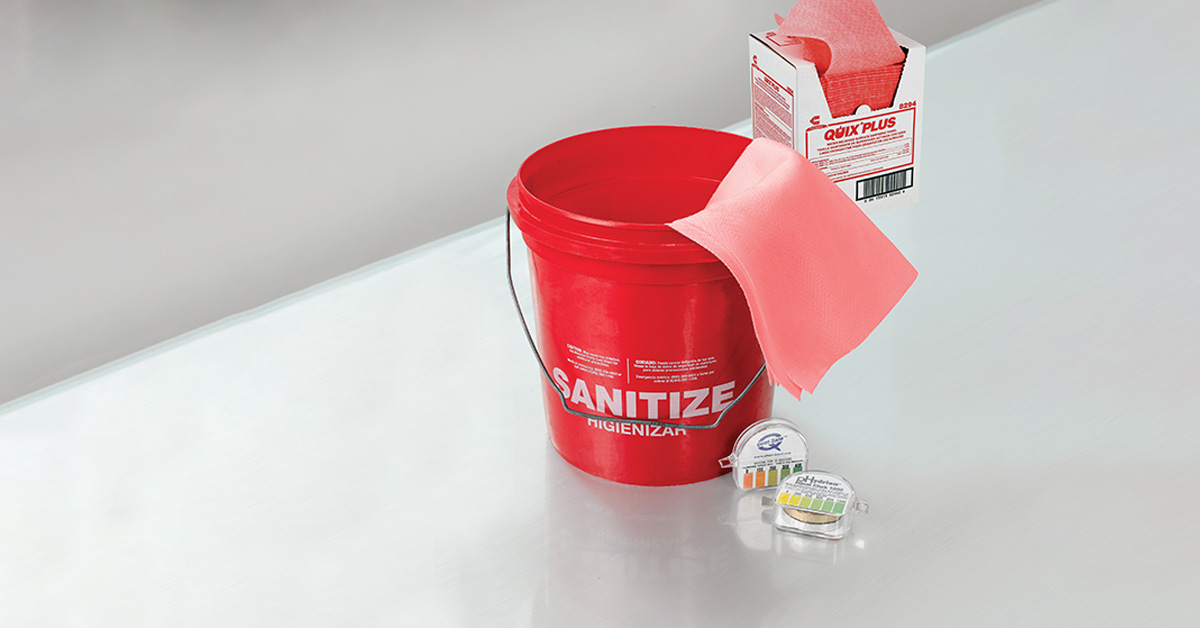 Our Chicopee brand's Quix pretreated towels are helping to fulfill this need in the marketplace. The design is ideal for cleaning and sanitizing where dispensing systems are inconvenient. In addition, Quix® can be used in many different types of environments such as foodservice establishments, schools, office buildings, cafeterias, industrial work spaces, or any other area where sanitizing is a top priority. Each durable towel is pretreated with chemistry that creates a proper strength sanitizing or cleaning solution when added to water. Quix towels are ready to use. All that is required is to measure one gallon of water into a bucket, add one towel, and squeeze to activate.
The chemicals used to create an effective sanitization solution differ from those used to create a cleaning solution, which is why Chicopee offers a Quix towel pretreated specifically for each task. The Quix® multipurpose cleaning towel creates a grease cutting solution that can be used for many cleaning applications. The Quix Plus sanitizing towel creates an EPA approved food surface contact sanitizer with 200 ppm active quaternary solution. Cleaning solutions will remove dirt, food, and other visible particles, but proper strength sanitizing solutions are used to kill bacteria, viruses, fungi, and other harmful pathogens, which may be left behind following routine cleaning.
Our brand designed this user-friendly solution without complicated instructions, therefore helping to minimize the risk of yielding incorrect mixtures. By making it easy to achieve the proper sanitizing strength every time, we are helping to ensure establishments maintain the highest standards of cleanliness.