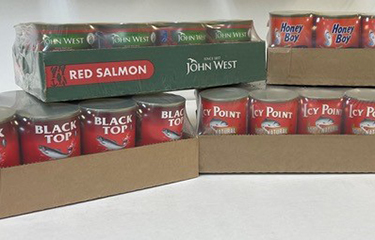 Grania Jain
The recyclable packaging will be used on all of OBI's domestic canned salmon brands and export products, the company said. Its recyclable components include the cans and lids, can labels, trays, and shrink overwrap, the company said in a press release.
The packaging components also utilize recycled content when possible, so OBI's trays are made from 100 percent recycled content and the cans and lids are made from 35 percent recycled content.
Meanwhile, the products' plastic shrink overwrap is made from 30 percent recycled materials, which will make the product exempt from the new United Kingdom tax on single-use plastics that will go into effect in April 2022.
The goal of the packaging changes was not necessarily focused on cost savings, but rather to "ensure that the packaging we are putting it [Alaska salmon] in has the lowest possible impact on the planet," OBI CEO Mark Palmer said.
"The purpose of this project was aligned with OBI's mission and values, not about what costs OBI might incur or save," Palmer told SeafoodSource. "If anything, the costs of the new packaging are higher. The goal was to maximize sustainability and to be proactive in responding to new legislation regarding single-use plastics."
Additionally, many of OBI's customers with strong sustainability programs "have been very interested in our packaging development program, and we are also pleased to help them reach their sustainability goals," Palmer said.
In collaboration with its affiliate Kent Warehousing and Labeling, OBI has begun a phase-out of its current stock of packaging and will switch to the new packaging for all shipments at the beginning of 2022.