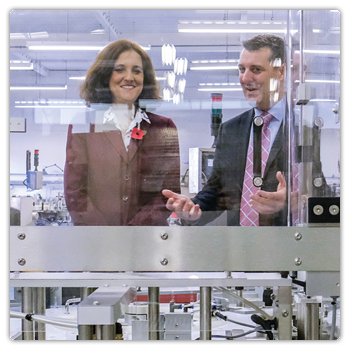 Press Packagingconnections
The event, which took place on 2nd November 2018, was part of a year-long celebration marking Newman Labelling Systems' achievements in its incredible 75 years in the industry. Newman Labelling Systems Director Martha Newman, Managing Director Shaun Baker and Production Manager Martyn Bell took Theresa Villiers on a guided tour of the facility, demonstrating labelling machines in action and presenting the company's manufacturing capability. A specially prepared display exhibiting the long history of the company proved particularly interesting. Theresa spoke with a number of employees and finished the visit with a cup of tea and a specially made Newman 75 year anniversary cake.
Commenting on the event, Managing Director Shaun Baker said: "It was a pleasure to welcome Theresa to our company, she was both friendly and engaging. Newman Labelling Systems is a rarity in Barnet: a manufacturer alive and well in what is primarily a residential area. Theresa was impressed with our many achievements and was interested to hear about the company history, as well as our plans for the future."
The history of the company began in 1943 when two gentlemen, Bob Newman and Dave Friend, started Newman Labelling Machines (which later became Newman Labelling Systems). The company has been based in its current location since 1960 and currently employs around 30 people. The company remains privately owned by the Newman family. The current company owner, Martha Newman, is the daughter-in-law of the original founder, Bob Newman.
Newman Labelling Systems is a UK company that designs and manufactures a complete range of high quality, customisable labelling equipment to meet the specific demands of the pharmaceutical, veterinary, biotech, nutraceutical and other regulated industries both in the UK and worldwide. Newman labelling machines are designed for fast, reliable and accurate application of both paper and clear pressure sensitive labels to a wide range of containers, including ampoules, vials, syringes, carpules, glass bottles, plastic bottles, square containers, securitainers and cartons.