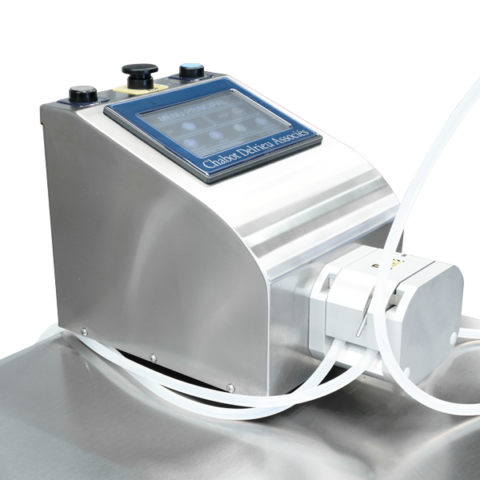 At CDA, we like simplicity and practicality . Two slogans anchored in our DNA since our beginnings in 1991. The latest developed by CDA is no exception to the rule, the pump K-One is an intuitive dosing machine and above all versatile.
Developed by our engineers with the best materials on the market, this peristaltic filling pump is suitable for a multitude of uses thanks to its semi-automatic and automatic functions. In automatic mode, this dosing machine fits perfectly on a complete line of packaging to fill your products. The semi-automatic mode will allow the K-One to be used manually in smaller productions.
What is peristaltic pumping technology?
Another peculiarity of this filling pump, the pumping technology used: peristaltic head. This system has many advantages.
Thanks to its tube pressure operation, the pump never comes into contact with the liquid contained in the pipes. Thus, in the e-liquid sector for example, when one wants to change the aroma to be conditioned, it will suffice to directly change the pipe. This operation will take less than two minutes and will not require any pump cleaning! A real time saver when we produce many different flavors.
Peristaltic pumping supports fluid viscosity and finds its interest in different sectors of activity to current changes in perfumes and packaging needs "hygiene, health, agri-food" . Natural flavors, e-liquid and essential oils are all products that can be packaged optimally by the K-One filling pump.
The K-One from CDA will fill your containers with an accuracy of +/- 1% and can reach a rate of up to 1500 products per hour for 10mL bottles.
In semi-automatic mode, it can be used with a pedal or be controlled by its buttons as its intuitive touch screen.
The K-One peristaltic pump can also be inserted on other labeling or CDA monoblock machines and operate in a completely automated way.
This will be the case, for example, with a complete E-Fill packaging line , to which is added the K-One peristaltic filling pump. Result: filling, capping / screwing and labeling on the same line!
In summary, our small K-One is big! Capable of working alone or on a monobloc, the brand new, beautiful CDA dosing pump is suitable for fluid type filling for sectors such as food processing, cosmetics, e-liquid or even chemistry . For the rest, our sales team is at your disposal to find for you the machine adapted to your needs!