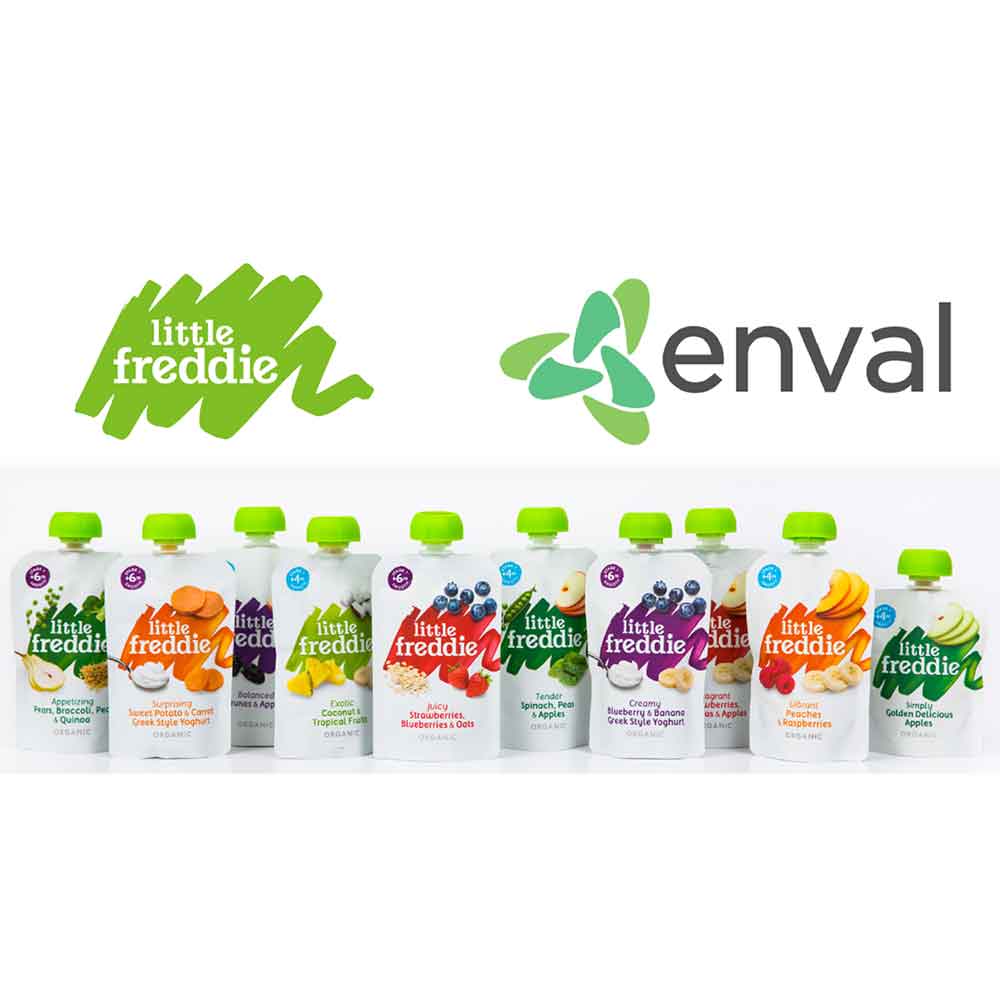 Premium organic baby and toddler food company, Little Freddie, and recycling specialist firm, Enval, announced today the launch of an innovative recycling scheme that is aiming for zero waste to landfill from Little Freddie's pouches. The initiative encourages consumers to send their used pouches to Enval in a prepaid envelope, where Enval will use its unique technology to recycle each component of the pouch into materials that can go back into circulation and used again.
Little Freddie is the first brand in the UK to offer this zero waste to landfill recycling scheme. It comes as part of the brand's 'Big Green Plan' to improve the environmental impact of its great tasting baby food. The brand will be piloting the scheme for all orders taken through its website, with the aim of taking it to retail next year. Consumers can also request the post back envelope from Little Freddie.
Enval uses groundbreaking technology to separate the plastic and aluminium from the pouches and prevent them from ending up in landfill. Aluminium produced with the Enval process has a carbon footprint 72% smaller than primary aluminium, and the process reduces the carbon footprint for disposing of baby food pouches by over 90% compared to current disposal methods.
Working closely together Little Freddie and Enval aim to drive the market forward by creating easy to access recycling solutions for single-use packaging, with the long-term objective of encouraging the widespread adoption of the technology around the world.
Carlos Ludlow-Palafox, Enval CEO, comments: "We're delighted that such a forward-thinking brand as Little Freddie sees the environment as its primary concern. Our aim with this scheme is to show local authorities, waste handling companies and material reprocessors that our technology is now a reality and should be an essential part of their recycling plans. Creating integral recycling solutions for materials that used to be trickier to deal with is what Enval is all about and we are delighted to be working with Little Freddie, which is the first brand to offer their customers a real circular economy recycling scheme for its post-consumer packaging. We hope to see many more brands follow suit."
Jess Ainley, Sustainability Manager at Little Freddie says: "We know recycling and the environment is a key concern amongst parents. We are taking responsibility for what happens after our pouches have been used, which is why we've worked with Enval to make this possible as part of our 'Big Green Plan' to reduce our impact on the environment. We're the first baby food brand to offer a zero waste to landfill recycling initiative but we hope we're not the last. We want to see this rolled out across the category and made mainstream, so it is as easy as possible for consumers to recycle."