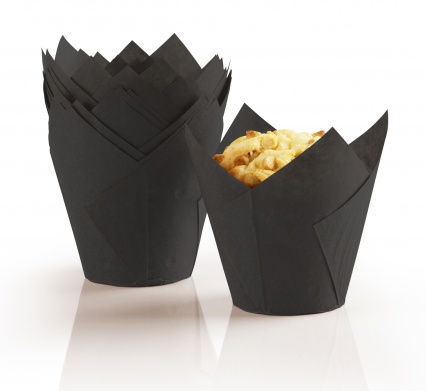 As a new addition to their tulip muffin wrap line-up, i2r Packaging Solutions has released a new black 'tuxedo' range, providing customers with a stylish and elegant premium look.
The company continues to expand its tulip muffin wrap offering, manufacturing a 'family' of wraps to suit all requirements. From the dinky 'bite-sized' micro wrap to a recently released 'perfect for sharing' stepped mega tulip version at 175mm x 175mm x 60mm, along with a number of sizes in between, i2r continue to develop their baking division to meet increased and varied demand. Manufactured in i2r's FSC and BRC accredited factory, all i2r's muffin wraps are available in printed sheet and in a variety of colourways.
Operating as part of the Italian Laminazione Sottile Group - one of the leading global suppliers of aluminium products - i2r's core business is the manufacture of wrinkle wall and smooth wall semi-rigid aluminium foil containers used throughout the food industry. Since launching their baking division last year, i2r has become the only UK manufacturer to provide the baking industry with a single source for both aluminium foil containers and FSC accredited paper products, which include siliconised and printed greaseproof sheets.
i2r 's Guy Rowledge said: "The ongoing growth of our tulip muffin wraps and paper products continue to keep pace with the increasing demand in this sector, particularly with food-to-go. And with ongoing investment in new tooling, we will continue to innovate and further enhance our product offering."