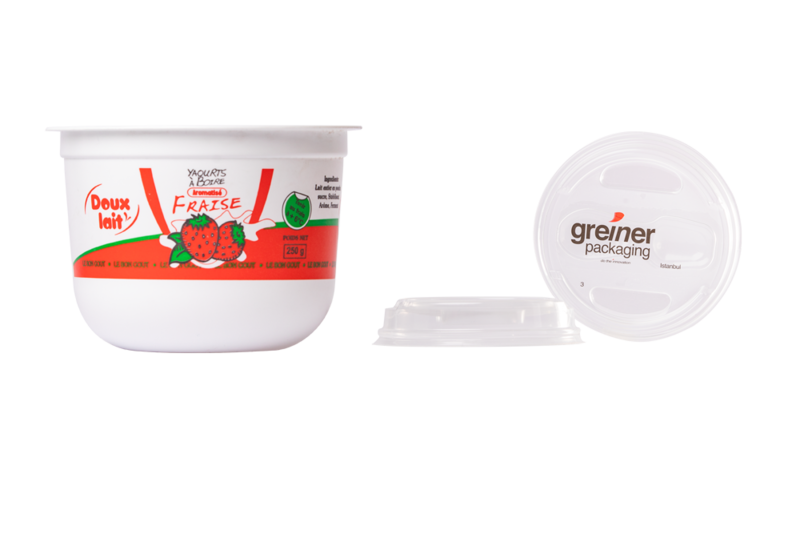 Twice as many reasons to be happy at Greiner Packaging: On Friday, the plastics experts were honored in Istanbul for not one, but two packaging ideas. At the "Crescents and Stars for Packaging Award" of the Turkish Packaging Manufacturers Association, Greiner Packaging secured the Perfection Award in the "Food" category with its creative yogurt cup and the Bronze Award with its innovative lid solution.
Kremsmünster, October 2018. The objective of the "Crescents and Stars for Packaging Award" was to highlight packaging solutions not just from Turkey but also from suppliers worldwide, and to make them accessible to the international public. Greiner Packaging was able to win the jury over twice and received an award in Bronze as well as the Perfection Award.
Practical cup packaging
A white polypropylene cup with offset decoration that Greiner Packaging produces for the African food company, Ghandour Foods Congo, won an award. Fruit yogurt in a variety of flavors is placed in the 250-gram packaging with its arch-shaped cup bottom that makes it easy to handle and perfect for stacking.
Convenience solution
A lid solution made of polypropylene likewise received an award: A spoon is inserted in the transparent 95-mm diameter lid; the lid is produced using thermoforming technology. This allows the lid to be manufactured efficiently from a time and cost perspective. The spoon makes it practical to consume various dishes on the go and the packaging solution conforms perfectly to the current trend for convenience foods.
All in all, 113 submissions – of a total of 210 – were honored to receive a Turkish Packaging Award, projects could be submitted in 11 different categories.
Packaging facts for the cup:
Capacity: 250 g
Material: PP
Technology: Thermoforming
Decoration: Offset printingColor: white
Packaging facts for lid and spoon:
Diameter: 95 mm
Material: PP
Technology: Thermoforming
Decoration: Sleeve label
Color: transparent