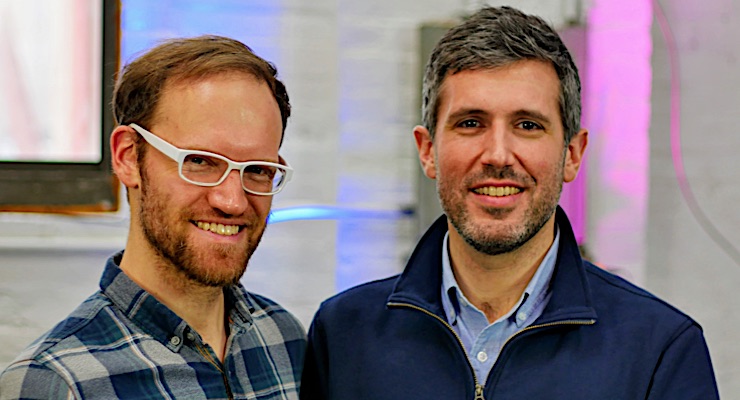 Tom Baran and Matt Hirsch have developed a new technology that is poised to make an impact on the label and packaging industry. Originally established in 2015, their company, Fathom Optics, features a software platform that fits into standard design and prepress workflows.
Fathom Optics' software creates depth of motion without the need for special materials or inks. According to Baran, CEO and co-founder, the software enables brands, graphic designers and converters to create, visualize and produce impressive moving prints for applications such as prime labels, shrink sleeves, as well as product authentication.

"At Fathom Optics, we're making customer experiences more engaging and more fun by bringing printed moving graphics to the tangible surface of packaging – no apps or phones required," explains Baran. "The algorithmic technology we've developed leverages existing press technology to add depth, motion and chromatic effects to a wide range of print applications without requiring specialty inks or substrates. The effects create an eye-catching and memorable experience, helping brands stand out on store shelves and better communicate the vision behind their identity."
Over the last two years, Baran and Hirsch have adapted their product's light field technology, originally destined for the AR/VR world, and applied it to the world of narrow and mid-web printing, as well as offset. Fathom raised a venture financing round in March of 2020 to accelerate its tech development and bring these exciting new capabilities to brands, designers and converters.

The two founders have been friends and colleagues for over 20 years, originally having met as engineering students at Boston's Tufts University. They then continued their academic paths in separate PhD programs at MIT.

"We realized that if you wanted to make light field displays on a flexo or offset press, you need to process many more pixels than even the highest-resolution modern digital display has," states Baran. "The mathematics I worked on in my thesis research provided a path to organizing the computation and formulating the algorithms behind doing this."
Fathom Optics' software can effectively replace materials with software while adding depth, holographics and other metallic effects without the need for special materials. Fathom effects are created by printing specially-screened images with opaque ink on two layers or two sides of a clear film. The build can be achieved with a wide variety of materials and press technologies for applications like shrink film, adhesive labels, flexible packaging, laminates and more.   

The key requirement is that there needs to be two layers of pixels – either printed directly on two sides of a substrate like a shrink sleeve or glue-applied label, or printed on two layers of a laminate. Fathom's platform was designed from the ground up to fit into existing packaging design and prepress workflows. Designers can apply effects to PDFs by placing special spot colors, either using Fathom's design portal or our custom Adobe Illustrator plug-in. They can then visualize their creations interactively in 3D and share these 3D designs with collaborators.
"As long as there is some separation between the pixels, Fathom can generate an amazing effect," says Baran. "And, the thicker the substrate and/or the higher the resolution of the printing plates, the more dramatic the effect. Fathom effects do particularly well with shrink sleeves, since as the product goes through the shrink tunnel, the substrate both thickens, and the effective resolution increases as the printed structure miniaturizes.

"I do think one of the really wonderful aspects of our product, especially in the context of supply chain disruptions, is that it often allows converters to work with what they have on-hand (in terms of materials and equipment) to produce an effect that they couldn't have had before," he adds. "Whether a job needs it by the inch or by the mile doesn't need to be an issue like it did before.  This means no more ordering 5,000 feet of a specialty material for a job that only needs 3,000, and no more headaches when plants shut down or shipments are delayed."