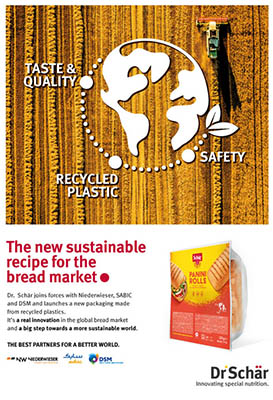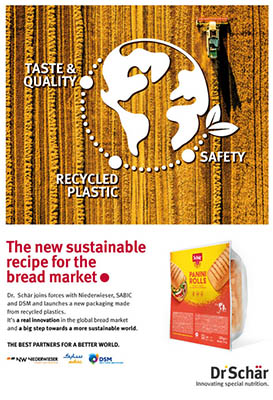 Sustainable innovation
The new, sustainable packaging will be launched throughout Europe in late 2021 for their gluten-free sandwich buns, Schär Panini Rolls, producing the packaging with innovative material made from the advanced recycling of mixed post-consumer plastics.
"We aim to be in the vanguard of sustainability.
And as innovation lies at the core of our company, we worked to achieve this big step – offering more sustainable solutions and at the same time continue to provide great tasting and safe products," says Dr. Schär CEO Philipp Schoeller. "Our partner Niederwieser with suppliers SABIC and DSM share similar sustainability commitments and are also working to increase the supply of recycled material. Together we can be among the first to close the loop."
Working together towards a circular economy
The partnership between the two family-run businesses is based on the shared vision of a sustainable future and on striving towards a circular economy. Currently, the recycling of plastics in Europe is mainly carried out by means of mechanical processes, however the recyclate obtained is not suitable for use in food contact packaging due to migration, hygiene and performance issues. This is where advanced recycling comes in, which allows for post-consumer recyclables or composite materials to become recyclable. While the number of advanced recycled quantities available today is very limited and the process is somewhat more complex, the quality is comparable to that of virgin material and therefore suitable for sensitive food application. Although advanced recycling is still in the infant stages and is not yet readily available due to the lack of large-scale recycling facilities, the industry promises new opportunities in the coming future.
Dr. Schär will be a first-mover in the bread industry, launching the certified advanced recycling innovation for sensitive food application as produced and developed by Niederwieser and its extrusion subsidiary VF Verpackungen GmbH. All three partners, Niederwieser, SABIC and DSM, are certified by ISCC for using certified recycled plastic following a mass balance approach.
"We strive towards a circular economy by keeping material in the loop and using recycled material," says Hannes Niederwieser, CEO Niederwieser Spa. "A long standing relationship connects the two companies.  . However, we do not want to be mere suppliers, but know that we can only grow and achieve our goals together, as partners. What unites us is a common mission: continuous and sustainable development while maintaining the highest quality of our products."
Dr. Schär will be the first manufacturer in the gluten free bread industry, launching the certified advanced recycling innovation for sensitive food application.