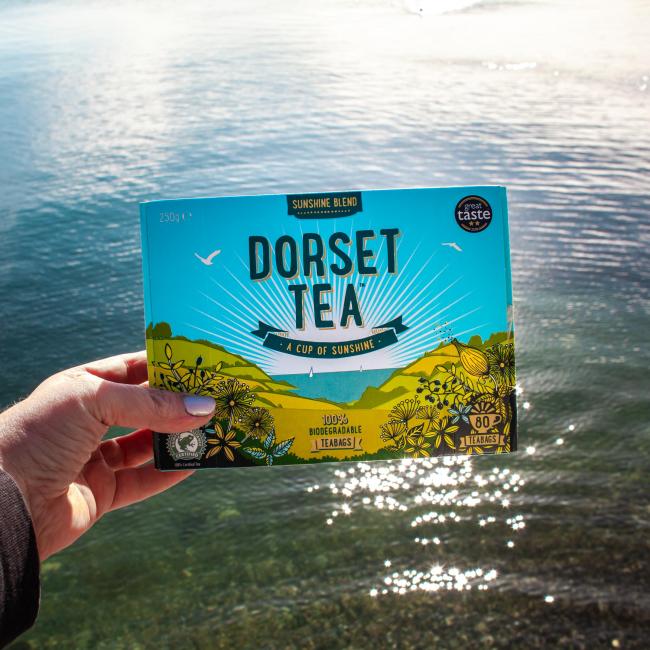 Dorset Tea, which has the slogan 'a cup of sunshine', is working in partnership with the Marine Conservation Society to raise awareness of the impact of littering along the coastline and to encourage local residents to reduce their use of single-use plastic.
The sustainable teabags, which will be launched tomorrow, are called The Sunshine Blend and the packaging will be fully recyclable. The company has removed the plastic wrap and gold lettering on the outer packaging as well as the inner foil bags.
Phoebe Double, brand manager at Dorset Tea, said: "At Dorset Tea, we love the planet as much as we love a good cup of tea, so we have been working hard to make sure our products respect the environment.
"It has been challenging, but we are very happy to announce that, as of October 13, all of our products will be packaged in environmentally friendly packaging.
"Our special recyclable boxes are not wrapped in plastic and keep the teabags fresh without a foil bag and our biodegradable teabags can be popped into your council food waste bin after usage.
"To celebrate the changes, we are partnering with the Marine Conservation Society to highlight the importance of keeping our marine environment free from litter."
Sanjay Mitra, corporate partnerships manager at the Marine Conservation Society, said: "The Marine Conservation Society is delighted to be partnering with Dorset Tea's sunshine blend and to see them removing single-use plastics from their products.
"Single-use plastics are hugely damaging for our beautiful marine environment and we applaud Dorset Tea's efforts to minimise their impact."
The organisations are also working in partnership with some Dorset schools to teach children the importance of looking after our planet and being sustainable.
Sanjay said: "We're also thrilled to be working with Dorset Tea on an education project using curriculum-linked resources at schools in Dorset.
"Reaching schoolchildren is a hugely important part of our work to educate and inspire future generations to take good care of our environment."