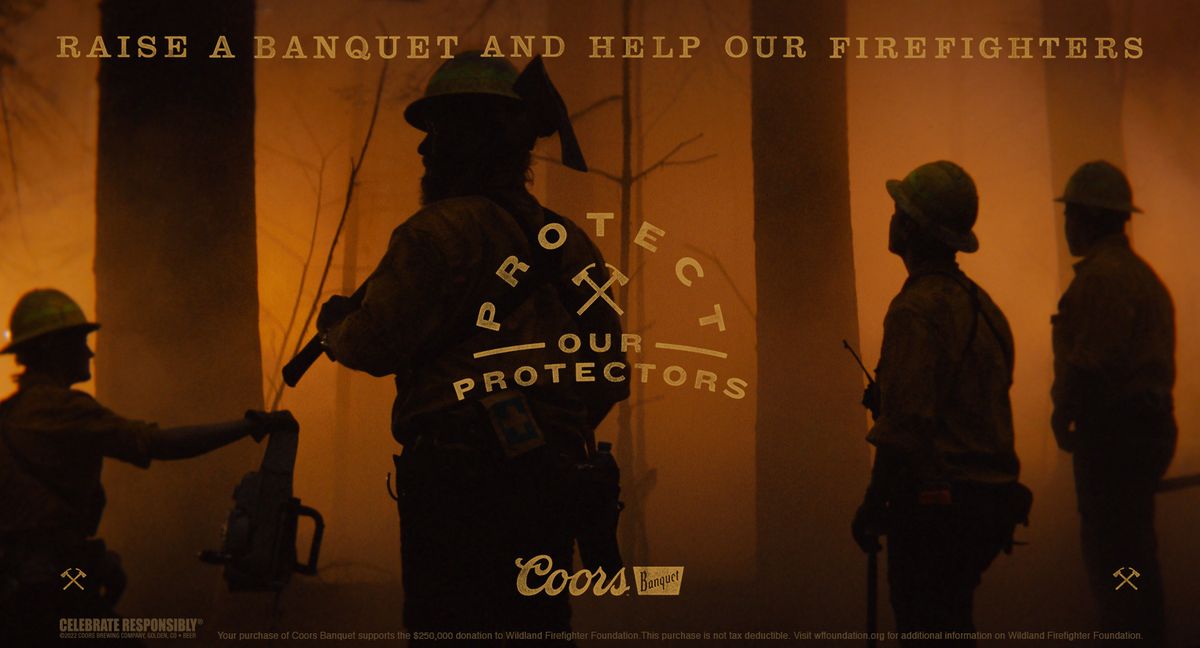 Grania Jain
The program includes limited-edition packaging and a capsule collection with clothing line Brixton, with proceeds from both benefiting the WFF. Also on tap are a partnership with country music star Chase Rice and a new ad created with creative agency Mischief.
One of Molson Coors' fastest-growing brands, Coors Banquet is focused on supporting America's firefighters during wildfire season. Press materials call out how climate change has increased the spread and severity of wildfires, bringing the effort in line with other environmentally focused initiatives from the company.
Coors Banquet's Protect Our Protectors continues efforts by the brand — which is brewed in "the heart of wildfire country" in Golden, Colorado — to support firefighters as wildfires rage in the American west.
Coors Banquet has donated more than $2 million to the WFF since 2014. The release of a capsule collection available on the beer brand's website is in line with a popular marketing tactic that sees brands further ingratiating themselves with consumers via limited-edition merchandise while generating revenue and collecting first-party consumer data.
The campaign ad made with Mischief is the creative agency's debut work for the brand. It features active and retired firefighters, some in their own gear, but the production was mindful of its environmental impact and did not use controlled burns to portray a wildfire in the ad. Instead, Mischief used smoke tubes, biodegradable fake ash and visual effects, per details shared with Marketing Dive.
The partnership with Chase Rice will see the country music star host benefit events around the country, appear in creator content and take part in a day of  firefighter training. By partnering with a musician, Coors Banquet can connect its efforts to pop culture — a growing imperative for brands of all kinds.
The purpose-driven program comes days after parent company Molson Coors reported its latest earnings. The company attributed a 1.7% decline in its U.S. sales volume to declining sales throughout the industry. However, Coors Banquet was a bright spot during the quarter: the brand is one of Molson Coors' fastest-growing beer brands, with dollar sales up double digits and a growing market share fueled by a new generation of drinkers, president and CEO Gavin Hattersley said on an earnings call.
The new Coors Banquet program is in line with Molson Coors' purpose-driven efforts around sustainability and environmental protection; sister brand Coors Light previously phased out plastic rings and installed roof chilling billboards in Miami.