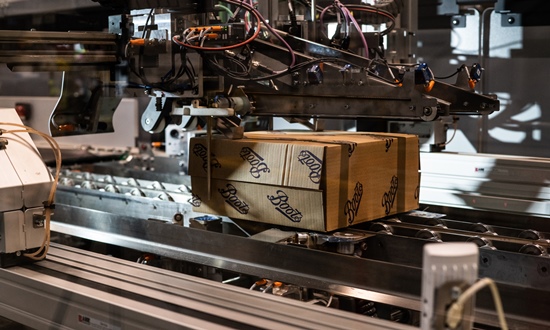 The UK's largest pharmacy-led health and beauty retailer, Boots.com is a fast-expanding part of the business, supported by a sizeable ecommerce fulfilment centre in Burton.
Until a year ago a simple mechanise packaging system was in use for the majority of off-peak orders, but the system did not offer the flexibility or capacity needed for Black Friday and peak season.
Boots chose to invest in automated packing machines from Quadient that tailor-make parcels at high-speed.
Quadient's CVP Impack has the potential to construct bespoke individual cardboard boxes to the exact size of an ordered item at the rate of up to of 500 boxes per hour – combining multiple items, as required.
The CVP Impack measures, constructs, tapes, weighs and labels each parcel in one seamless process.
The operator places the item(s) to be packed onto the machine and scans the order.
The system identifies the order and automatically conveys the items to a 3D scanner to measure and calculate the minimum box size required.
The cardboard is then cut and folded to create a snug fit around the goods and tape is applied on just two sides to secure the box.
Then an in-line scale checks the weight against the order and, finally, the box is automatically conveyed to a label printer where a carrier compliant label is created and applied.
The whole process, from start to finish, takes only 30 seconds with a custom made box configured every seven seconds.
"We were impressed by the speed and efficiency with which the two Quadient machines performed over the Black Friday peak," says Murfin. "The CVP Impack machines have delivered significant cost and environmental benefits too, with reduced material use and volume savings on transport."