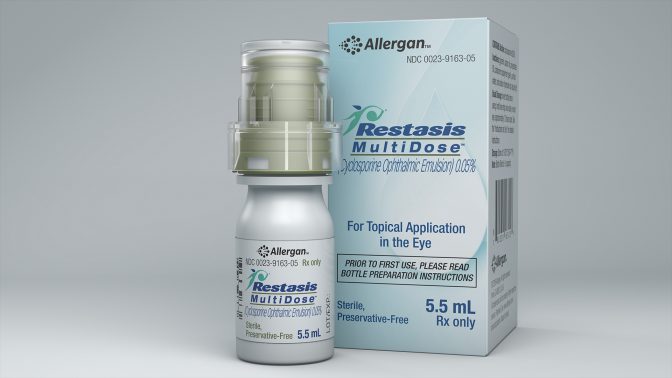 Ajit Pandey
Aptar Pharma's innovative and patented preservative-free multidose Ophthalmic Squeeze Dispenser is available for patients in the U.S. prescription market for the first time with Allergan's RESTASIS MULTIDOSE™ (Cyclosporine Ophthalmic Emulsion) 0.05%. This approval and launch makes the Aptar Pharma Ophthalmic Squeeze Dispenser the very first, and only, U.S.
FDA-approved multidose delivery system to handle prescription eye treatment formulations without any preservatives.
Meeting the needs of patients
Aptar Pharma is working closely with eye care specialist Allergan to improve patient safety, achieve dosing accuracy and maintain product integrity. Dry eye patients use eye drops on a regular basis, and often for the rest of their lives. It is well-proven that preserved medications may cause unpleasant and sometimes serious side effects.
FDA approval
The increasing number of patients experiencing eye irritation or allergic reactions with preserved formulations appreciate the fact that preservatives can be removed from eye care medications with Aptar Pharma's Ophthalmic Squeeze Dispenser system. RESTASIS® and RESTASIS MULTIDOSE™ are FDA-approved prescription treatments to help patients suffering from Chronic Dry Eye to make more of their own tears.
Making ophthalmic solutions easier and safer to deliver Aptar
Pharma's Ophthalmic Squeeze Dispenser system is the result of more than 10 years of development and experience in the delivery of preservative-free ophthalmic solutions. Patients and consumers in Europe, Latin America and Asia have benefited from this technology since 2012 with more than 100 commercial references now available on the market. RESTASIS® is not an artificial tear. It is a prescription medicine that helps increase the eyes' natural ability to produce tears. "Our Ophthalmic Squeeze Dispenser technology has been a great success for our customers," explained Salim Haffar, President, Aptar Pharma. "The proven and unrivalled microbiological safety, combined with a precise and reproducible drop ejection allows pharmaceutical customers worldwide to enter into discussions with regulatory agencies such as the FDA." Mr. Haffar also points out the user-friendliness of the system, "The ergonomic and pocket-size design and the intuitiveness of a squeezable container with a low actuation force certainly contribute to the high levels of acceptance among patients and consumers around the world."